Optus Outage Map
The map below depicts the most recent cities in Australia where Optus users have reported problems and outages. If you are experiencing problems with Optus, please submit a report below.
Loading map, please wait...
The heatmap above shows where the most recent user-submitted and social media reports are geographically clustered. The density of these reports is depicted by the color scale as shown below.
Optus users affected: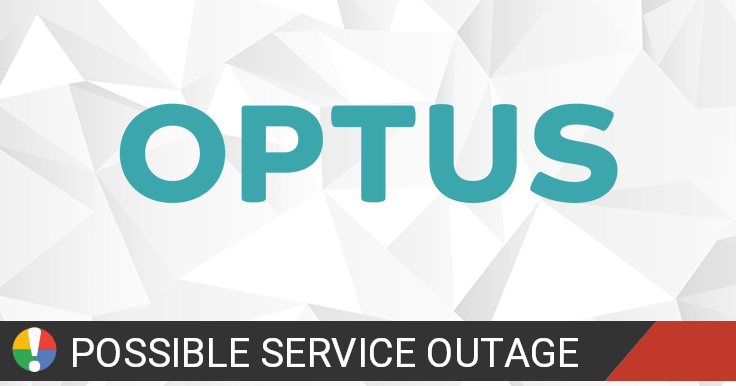 SingTel Optus offers landline and mobile communication services to consumers and businesses, including mobile phone, mobile internet, broadband internet and television.
Check Current Status
Most Affected Locations
Outage reports and issues in the past 15 days originated from:
| Location | Reports |
| --- | --- |
| Melbourne, VIC | 866 |
| Sydney, NSW | 775 |
| Brisbane, QLD | 407 |
| Adelaide, SA | 210 |
| Perth, WA | 156 |
| Canberra, ACT | 40 |
| Hobart, TAS | 21 |
| Newcastle, NSW | 15 |
| Geelong, VIC | 12 |
| Gold Coast, QLD | 12 |
| Maitland, NSW | 9 |
| Cairns, QLD | 8 |
| Central Coast, NSW | 6 |
| Orange, NSW | 5 |
| Ballarat, VIC | 5 |
| Launceston, TAS | 5 |
| Sunshine Coast, QLD | 5 |
| Bendigo, VIC | 5 |
| Townsville, QLD | 5 |
| Bundaberg, QLD | 4 |
| Urbenville, NSW | 4 |
| Port Macquarie, NSW | 3 |
| Rockhampton, QLD | 3 |
| Bunbury, WA | 3 |
| Charles Sturt University, NSW | 3 |
| Coffs Harbour, NSW | 3 |
| Cessnock, NSW | 3 |
| Long Forest, VIC | 3 |
| Caulfield South, VIC | 3 |
| Welcome Creek, QLD | 3 |
Community Discussion
Tips? Frustrations? Share them here. Useful comments include a description of the problem, city and postal code.
Beware of "support numbers" or "recovery" accounts that might be posted below. Make sure to report and downvote those comments. Avoid posting your personal information.
Optus Issues Reports
Latest outage, problems and issue reports in social media:
real halo lore facts

(@PostingGeneral) reported

Optus 4G pull down 1-3 mbit in some areas and .5 in others. Optus 5G non existent. Friend on Telstra can get 20 mbit on 5G in some parts and 3G in others. Apartment wifi gets around 10 mbit in some places but 1 mbit at the TV so can't stream anything on it lol.

suepontin@optusnet.com.au

(@suepontinoptus1) reported

@Xrpinvestor2 @AstridAlderleaf I need to know who this persons suepontin@optus1 is that is putting things on Instagram using mtuname and how do I stop it? Who is this person?? I don't have anything to do with Optus. Please help if you can. Thankyou

M o r i 🐏🔮 Sheep Vtuber | comms open

(@moridesuu_) reported

pls im shaking in my australian boots after the optus breach… im with a dif company but all my info and bank stuff being leaked sounds like a worst nightmare

Christian Loren

(@Makedonon_God) reported

@Optus @RunnerSA18 I haven't been a customer of Optus for more than 3 years. What the hell are you doing still having my details on your servers. You are obviously hungry for personal data. My data in particular should have been deleted from your severs. Why are you keeping non-customer data?

Dalienx 🇦🇺🏴‍☠️

(@dalienx) reported

@RebelNews_AU if we had a digital ID system before the optus hack, then our digital ID's would be in the hands of the hackers, making a bad situation far worse.

STEVE FISCHER

(@STEVEFI14205588) reported

from Adelaide, State of South Australia

@sammyjcomedian Sammy was still smiling. Sadly this is close to the truth it's not at all absurd. Yet we pay so little for those who serve us. They cop the crap from poor management decisions. Hey @Optus have you not heard of reputational damage?

Brendan

(@bmkpolar) reported

@Jonatho43827873 @PoliBard I call bullshit. I think Optus quickly paid the ransom and kept it on the down low. Anything after is just noise. How they going to really catch something through the dark web?

Annie E 🚀Investing in social impact

(@ChiefDisrupter) reported

@redruby17 @Optus I haven't received anything apart from general info and I'm a customer

Drew 💉🍷💉🥃💉 🏍💉🎸🪄🏏 🏴󠁧󠁢󠁳󠁣󠁴󠁿

(@drew_keychange) reported

@PeterKlages NBN only offer satellite service where we are, near Dorrigo NSW. Average annual rainfall 2 metres, this YTD 2.6 mts, fog days 365 (kidding). Luckily we pick up a 4G Optus signal from 17 kms away, squeezing through the hills and gullies.

Mike Stanton

(@mdstanton) reported

It is not a solution to a mass data breach to increase the sharing of personal data from the public to private sectors without the consent of the owners of that data. #optus

Latecomer

(@TRXmemories) reported

Optus to give customer data to the banks without having to hack it.

❤️🤍Guy❤️🤍

(@greysfan) reported

And all i wanna say is **** @optus. All my accounts with you have now been terminated and never again. The way you dealt with this is bullshit and the fact is, this NEVER should have happened in the first place. #OptusHack #OptusDataBreach #OptusBreach

SamR 🌸

(@samr6003) reported

@VultureCapital1 I don't want to but I'm not sure that it's helpful to not pay it. I've arranged to port our NBN business service and I've changed to prepaid plans with Aldi Mobile and cancelled my and my husband's mobile services with @Optus. I think this is the best option to express my anger.

Angie Briggs

(@angieb49) reported

@ReddieNews @YouTube Greed!! Disgusting, those Optus customer already have had enough to deal with.

bardzoOoOlla 👻

(@bardzilla_) reported

Is Optus providing a way for customers to easily identify if they were part of the breach? I was a customer about 15 years ago, how far back are we talking?
Check Current Status