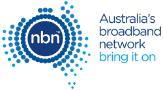 NBN Outage in Port Fairy, Moyne, State of Victoria
The National Broadband Network (NBN) is an Australian national wholesale open-access data network project and offers landline phone and internet network.
NBN problems in the last 24 hours in Port Fairy, State of Victoria
Most Reported Problems:
Internet

Wi-fi

Total Blackout

E-mail

TV

Phone
NBN in Port Fairy, State of Victoria Comments
Tips? Frustrations? Share them here. Useful comments include a description of the problem, city and postal code.
NBN Issues Reports
Latest outage, problems and issue reports in social media:
Trevor Long

(@trevorlong) reported

from Sydney, State of New South Wales

@peterp79 @Aussie_BB @Telstra @NBN_Australia Also, 25 is minimum - so you should be getting 22 ish... plug a laptop INTO the modem and do a speed test. WIFI is probably what's slowing you down too

nbn™ Australia

(@NBN_Australia) reported

@petermclarty They can do further testing and if the issue is with nbn, they'll let us know and we'll work together to resolve and provide updates. Please note providers are experiencing extremely high call volumes & support requests at present and are working with reduced staffing levels. 2/3

Peter Psaltis

(@peterp79) reported

@trevorlong @Aussie_BB @Telstra @NBN_Australia Yep FTTN. It's horrible!

Peter Psaltis

(@peterp79) reported

@trevorlong @Aussie_BB @Telstra @NBN_Australia WiFi. Standard Plus speed unlimited. I've been told I'm in a bad area. Speed is consistent with what neighbor's are getting

Shaun Ewing

(@swewing) reported

Super impressed with these new @Aussie_BB 1000/50 plans. Just downloaded a file at 105MB/s (1GB came down in less than 10s) which I never thought I'd get at home. More upstream would be nice though. *looks at NBN co*

trent clarke @🏡

(@trentcsc) reported

Apparently @iiNet support has lodged an issue with the NBN and they'll get back to me. I hope so, because they have already said they'll call me back once over this and not done so.

trent clarke @🏡

(@trentcsc) reported

After talking with @iiNet tech support in its various forms for close to 3 hours, I still do not know why my NBN setup did not happen today, nor when they will mount another attempt.

trent clarke @🏡

(@trentcsc) reported

@iiNet I've been dealing with your support crew for 2 hours via chat after no-one called me back when I asked why my NBN setup didn't happen today. Tech support people keep disappearing for 15 minutes at a time. Over. It.

AW

(@Lebanator_) reported

@NBN_Australia @VodafoneAU NBN is an absolute debacle. Next Door neighbour gets 100mb and I'm barely pulling down 30 mbs a second with drop outs. @Telstra and their crap copper roll out. Absolutely disgusted in the lack of care and accountability on the spend of public funds.

m i c h a e l ¯\_(ツ)_/¯

(@micwoodward) reported

@moylecroft @Aussie_BB Mine went through a phase of dropping all the time, turned out to be a crap NTD. NBN guy took one look at the serial number and went to get a replacement. Mine was dropping maybe 10 times a day...