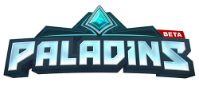 Is Paladins down?
Paladins: Champions of the Realm is a free-to-play multiplayer Hero shooter video game released on September 16, 2016 as an early access product by Hi-Rez Studios.
No problems detected at Paladins
Paladins problems in the last 24 hours
At the moment, we haven't detected any problems at Paladins. Are you experiencing issues or an outage? Leave a message in the comments section!
Most Reported Problems:
Online Play

Sign in

Glitches

Game Crash

Matchmaking
Paladins Outage Map
The most recent outage reports and issues originated from:
| | | |
| --- | --- | --- |
| Cusco | Glitches | |
| Saint-Priest-Taurion | Game Crash | |
| Karlsruhe | Glitches | |
| Macomb | Game Crash | |
| Cali | Online Play | |
| Bordeaux | Glitches | |
Paladins Comments
Tips? Frustrations? Share them here. Useful comments include a description of the problem, city and postal code.
Paladins Issues Reports
Latest outage, problems and issue reports in social media:
Code Cloud-McFox on Epic Games ✨

(@CloudMcFox_) reported

@cryforeunji @PaladinsGame I play on switch and usually don't have any issues with audio, it's weird

XduNoir

(@XduNoir) reported

@N30o_ @HiRezNeco @PaladinsGame people in console would have an issue turning 180°, and that is for both parties not only the enemy

TPDMAGIC

(@tpdmagic) reported

@midnightlottie @PaladinsGame Almost 5k.hours on two accounts so believe me I know it's a good game just moral issues has change my stance on playing it. Could that change well possible change is tattoo on my back for a reason.

Code Cloud-McFox on Epic Games ✨

(@CloudMcFox_) reported

@cryforeunji @PaladinsGame Audio issues?

Mik

(@MikSumbi) reported

@djknx @HiRezNeco @PaladinsGame Yes, console version and bug on controller aim need fix..

Burrito

(@DasBurrito_) reported

@PaladinsGame FIX YOUR ******* SERVERS

Ska'Vorah 🌈

(@SkaVorah) reported

@HiRezNeco @PaladinsGame My biggest issue is lack of mobilit. Envelop doesn't make much sense because it's godly against burst, for example snipers. Lowering 1k or 1.2k to 275 damage for 3 sec. is good. But what this does against champions like Koga, Viktor, Tyra, Vivian... how does she protect herself?

💚 YIllusion1 💚 (CEO of Illusions)

(@YIllusion1) reported

Has anyone else been crashing on pc paladins lately? Everytime i try to load into matches it just instantly takes me off without an error code or anything. I just want to do the trails for crystals but game says no What could i do to fix it? It is on most recent update on steam

The Fiend

(@extraordinaryoc) reported

@eIegahnce @OfficialTaShawn @PaladinsGame Why are you crying for a character skins? This is not a big issue. Stop complaining about everything.

healer seris🔮

(@Abderra36130821) reported

@HiRezRomanova Plz @HiRezRomanova i have this error (error 10011)and now i can't play paladins anymore i tried everything!

Jonathan

(@Jonatha94144572) reported

@Justinh00925559 @PaladinsGame They did fix bugs.

Koh.

(@cryforeunji) reported

@PaladinsGame Very nice, but I see you didn't fix the audio issues on N Switch 😭

_hi _

(@Justinh00925559) reported

@PaladinsGame Fix the bugs plz it's been happening sense the star sister battle bass

Spider

(@SpiderMusic77) reported

@PaladinsGame I bet it'll last 24 hrs and then "sorry, we have to disable the bounty store 'cause we detected 126 bugs we need to fix in 3 years".

Just Dudes

(@DragonBlazeX66) reported

I REALLY wish that Paladins need to fix this game due to constantly game crashing. This is getting ridiculous and the game is extremely broke as hell. That another reason I'm about to make a video of the most annoying things about Paladins for the bonus ****.

healer seris🔮

(@Abderra36130821) reported

@HiRezRomanova Please @HiRezRomanova i have this error 10011 and i have tried EVERYTHING and now i can't play paladins

Phantom Zane Streams

(@PhantomZane) reported

@NintendoAmerica @HirezOps @PaladinsGame , you should take Paladins off of Nintendo Switch until you can guarantee more stability with connectivity. Playing on PC or another console is not a fix if I enjoy playing on Switch.

Phantom Zane Streams

(@PhantomZane) reported

@NintendoAmerica @PaladinsGame @HirezOps , don't put a game on a console if you know disconnects will be an issue. To reconnect it takes a minute and a half to two minutes. I know that can be fixed. Playing on another PC or another console is not a fix.

Djogmacx

(@djogmacx) reported

@djknx I know right. Man i wish there was a semper mode for it. Also ngl i miss the broken mess that was paladins in its absolute buggy state. The fact i saw a T pose everygame due too play of the game coding was amazing.

💞💍

(@dilucrhee) reported

I always thought flanks in paladins were broken but most of them suck now

Nathe Ann Z'bar

(@nathe_z) reported

@PaladinsGame Bring back login bonuses

cat 🍵🌸

(@lvecean) reported

ALSO why wasn't the whole clone thing a bigger issue?? they just showed us 300 shiros and we were supposed to forget about them?? why didn't we get the paladins separated, confronted by a shiro clone and they'd have to figure out it was a clone on their own? or a battle between—

Shayne Hammond

(@MrShayneHammond) reported

@PaladinsGame @RoosterTeeth Fix your game first

Mosquitodaalvorada

(@Mosquitodaalvo1) reported

@AlePassa1994 @Luxero99 @PaladinsGame I agree her designed is pretty, maybe one of the most beautiful in the game. My problem is the gameplay. She has a Seris heal, a Buck jump, a Barik deployable. She doesn't seem original, I feel shes a mashed of other heroes and not one herself But if you like it's ok, I just dont

ChiefShafer

(@KeanaShafer) reported

@cassie_is_waifu @PaladinsGame I was also thinking that for her ult she'd summon little animals to heal allies nearby or maybe something like vivians ult. Where she summons animals and they heal until they are broken by enemies. 😱

DrunkardDragon

(@DrunkardDragon) reported

@LawDogStrikes Also, that same issue tackles inclusivity of women in the #TTRPG and Anti-Paladins. I will say it again, biggest mistake @Wizards_DnD made was dropping Dragon and Dungeon mag.

JustAnotherArtist

(@JustAnthrArtist) reported

@PaladinsGame So their main focus is adding new characters while failing to correct the amount of time this game crashes and freezes. And I did Romanovas suggestion of restarting every 3-4 games on Switch, but now there's an issue/potential of the game freezing mid-match. This is annoying.

winterswonderlandiscoming

(@seasonsall4) reported

@Kon__K @JRWeaver55 7/7 at the same time or shortly after another of Paladins directors was arrested &charged with money laundering & fraud offences. Estimate hearings demanded proof due diligence was Dun in tender process & Paladin was proving adequate service. Dutton refuses any details at all

Justine

(@reyjustinedomo) reported

i want to play a new hero shooter aside from overwatch is paladins still good in 2021? apex legends? i would go back to playing valorant but i always get ping and rubberbanding issues when i play which i don't get in ow. also the games are too long and time to kill too short

クレオパトラッシュ!

(@ozisanday33o) reported

@PaladinsGame Please fix the Japanese server first!