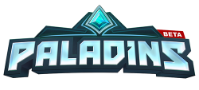 Is Paladins down?
No problems detected
If you are having issues, please submit a report below.
Paladins: Champions of the Realm is a free-to-play multiplayer Hero shooter video game released on September 16, 2016 as an early access product by Hi-Rez Studios.
Report a Problem
Problems in the last 24 hours
The graph below depicts the number of Paladins reports received over the last 24 hours by time of day. When the number of reports exceeds the baseline, represented by the red line, an outage is determined.
At the moment, we haven't detected any problems at Paladins. Are you experiencing issues or an outage? Leave a message in the comments section!
Most Reported Problems
The following are the most recent problems reported by Paladins users through our website.
Sign in

Online Play

Matchmaking

Game Crash
Live Outage Map
The most recent Paladins outage reports came from the following cities::
| | | |
| --- | --- | --- |
| Brussels | Online Play | |
| Cerea | Online Play | |
| Recanati | Sign in | |
| Epalinges | Sign in | |
| Caen | Sign in | |
| Seattle | Sign in | |
Full Outage Map
Community Discussion
Tips? Frustrations? Share them here. Useful comments include a description of the problem, city and postal code.
Paladins Issues Reports
Latest outage, problems and issue reports in social media:
Ms Ann Throat

(@dudethatspiss) reported

@Freaking8_8King @wushtay @PaladinsGame Like they offer a product on a system & have micro transactions, if they're not gonna fix it they're scumbags for having open hands for money while being unable to provide a normal standard of gameplay. This attitude will extend to all their platforms idk why you're missing that

Pukenplag

(@pukenplag) reported

@gimmeonion @PaladinsGame So you spent money so you could be special? That sounds like a you problem.

Zahiry

(@HandlessWoW) reported

@holinka @WarcraftDevs wings need to trigger forbearance and paladins should not be able to attack while in bubble, also reduce the duration of bubble by half on PvP is way to broken

D

(@dillon12424142) reported

@Jahshadowx @bramotlol Spriest could be in it's most broken state it's still invalidated by the existence of ret paladins Just ret MW as well just makes it impossible to play spriest

Cody

(@CodyTM2) reported

For the first time since corvus is in Paladins Jenos is a better option I think he will be nerfed in the next patch he is very broken to enjoy it as much as possible. #Paladins

the moon deceives

(@_hypercolor) reported

@wushtay @PaladinsGame You're just mistaken. I'm always happy for new players to have a chance at skins like exclusives. But things are marketed a certain way (FOMO) to encourage people to buy things and the whole point of this was buy it or miss it forever. You see the issue now?

Bilbao

(@sebasti60817970) reported

@PaladinsGame Hi, sorry, a problem just happened to me, I bought a pack of 800 crystals but they didn't give me any. I need help please, regards

Ro

(@Frogcap2) reported

@PaladinsGame Please fix Androxus Talent bug

Jack de Wilde

(@jackdew31) reported

@Tracy__Lavender @gimmeonion @PaladinsGame Limited means it's not coming back. And now it's coming back. I don't really have an issue with it, but it kinda sucks EM is going back on their word.

sleeve?

(@sleevelol_) reported

@ashskullz @PaladinsGame she was vehemently broken with the attack speed buff

Nathan Skyers

(@SkyersNathan) reported

@PaladinsGame btw actually 7 gun damage for burst mode is still broken with the headshot to a non frontline enemy he can still kill them only two shots

Joe

(@JooAlme04769655) reported

@aphofis_ @PaladinsGame Its not broken, hes a flanker he needs it, rn the onyl thing opressive about him is his effective range (what was undernerfed) the range Nerf itself is horrible but not reseting his roll after the hook makes spring loaded useless

Blorky

(@bl0rkus) reported

@senhiino And the other being more of a bug fix (wow a bug in Paladins? Crazy) where your swarm doesnt charge up if you start casting to fast after a previous ability, you can fix this by holding left click while you're trying to charge swarm. These are rough explanations but you can find-

Madman M&G

(@MadMan_MG) reported

Easy anti cheat has got to be the worst thing in existence. There were the same issues w cheaters in paladins at one point but the game died so you don't really hear about it like you used to

Devii_ii

(@Dev00783459) reported

@PaladinsGame Fix your trash game already

.

(@wolftoris_) reported

@paulrcaranto @PaladinsGame yeah that's the thing I need them to fix really

✨Loah ✨

(@ItsHolloah) reported

@Hellboy484 @PaladinsGame I have mixed feelings about her. I grinded out her gold first week so I obviously played her a lot and I consider her my main as well. I think my problem with her is relying on realm breaker to do max damage with good range and nimble because of how slow she is.

Paul Caranto

(@paulrcaranto) reported

@wolftoris_ @PaladinsGame Been playing on switch since Paladins was announced there. At this point, don't expect any fix. I, and I think most switch players have accepted the limitations of the platform. *I do hope they fix the crashing before even being able to play your first match though

.

(@wolftoris_) reported

@PaladinsGame day 4 of asking y'all to fix the Switch bugs which causes the game to crash in loading screens and even randomly

Mark Talaga -Cavityx

(@Cavityx) reported

@WarcraftDevs Mannn, way to trash the competitive arena ladders and over a whole week you can't fully fix the mess you made with ret paladins/demos/rshams and fistweavers in PvP/Arena? What are you waiting for? You have people choosing not to play because of the dogshit state.

AuraeLux

(@AuraeLux) reported

@holinka @WarcraftDevs Can you please have a look at the Judgement dispel PvP talent of Paladins? It's broken. I play a Shadow Priest. With paladins everywhere, PvP is beyond painful due to this. Especially with reworks, do you guys actually take PvP talents into account?

Angela Williams

(@faimamm) reported

@exp1rence @PaladinsGame It's so unfair that there can't give us help on time, I'm pissed about their activities and response delay. Thanks to #clone_techs on Instagram, they are always there to help fix issues

MohaZ | 🇵🇸 |

(@twi5ce) reported

@vvrrv7 @PaladinsGame I had the same problem but it came after playing a couple of games! I think you have to play two games of the same mode (?)

Plka

(@plkatv) reported

@AshW_EU Said Paladins broken since forever but they kept buffing :( Even before the last tuning they were crazy good and they made them even better :( #BuffProtWarrior

Nachelle Swift

(@Nachelle_Swift) reported

@Ki11ianHaynes @PaladinsGame I think there was an issue with it so it's not in this patch. Next patch it will be hopefully. Honestly I haven't touched paladins since the into the abyss pass came out. I've been waiting on these trials so I can actually play lol

w

(@W_Homosapien) reported

@TonyArtZ4 I think its unfair but there's not much Paladins can/is going to do besides like rework Kasumi completely, which they wont do. I dont have a huge problem with it as long as they keep nerfing it

afriKEN

(@ken_afri) reported

@dz4kt @Icebish1 @lvladen im perfectle capable of accepting my spec is really good, unlike all the mouthbreather ret paladins that act like they are always awful and deserve to be beyond broken as a form of reparations.

🌐Brayden🌐

(@TheMontyR6) reported

@PaladinsGame Please fix the champion bug. I purchased the "PALADINS Champion Pack Unlock" years ago and it bugs and locks some of the champions.

Dateless Manchild 🌟 🌟 🌟

(@temjin9991) reported

@MaxCole21 @Wowhead Hah, my warr could just ROFL STOMP paladins no problem, it's losers like you that could not handle it that began this **** show

Shambamtymam

(@Grandwarlord) reported

If judge dispel was so broken before changes to paladins but not enough for people to tweet about it I don't see why now people are now in tears about it. Boohoo . Pallies are in a good spot but not broken after nerfs.