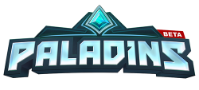 Is Paladins down?
No problems detected at Paladins
If you are having issues, please submit a report below.
Paladins: Champions of the Realm is a free-to-play multiplayer Hero shooter video game released on September 16, 2016 as an early access product by Hi-Rez Studios.
Paladins problems in the last 24 hours
The following chart shows the number of reports that we have received about Paladins by time of day over the past 24 hours. An outage is determined when the number of reports are higher than the baseline, represented by the red line.
At the moment, we haven't detected any problems at Paladins. Are you experiencing issues or an outage? Leave a message in the comments section!
Most Reported Problems:
Sign in

Game Crash

Online Play

Glitches

Matchmaking

Hacking / Cheating
Paladins Outage Map
The most recent outage reports and issues originated from:
| | | |
| --- | --- | --- |
| Málaga | Glitches | |
| Málaga | Glitches | |
| Curitiba | Sign in | |
| Alcoy | Online Play | |
| Lucciana | Game Crash | |
| Novosibirsk | Hacking / Cheating | |
Full Outage Map
Paladins Comments
Tips? Frustrations? Share them here. Useful comments include a description of the problem, city and postal code.
Paladins Issues Reports
Latest outage, problems and issue reports in social media:
FlyinBeauty 🎮

(@FlyinBeauty) reported

Last rant on @PaladinsGame but I've had 5 games in the row of at least one player disconnect, one game 3 of them left. coming back I see why the community abandoned this game like I did. I'm about to again. If it wasn't for the money I put in smite I'd stop supporting hirez games

FlyinBeauty 🎮

(@FlyinBeauty) reported

Losing 11 TP and 22:23 mins of my life because after 5 years of being out of beta @HiRezStudios #hirez refusing to implement a system to surrender when people disconnect before the game starts or the first few mins of the match on #paladins @PaladinsGame

Hyu

(@HyuugaBB) reported

@ThunderBrush If Paladins got the OW2 treatment it wouldnt just be a big update disguised as a new game, it would be a legit Upgrade cause i really do feel like many problems could be dealt with by just using a newer engine, worthy of having the 2 in the name

Axo | commission available

(@AxolotlolAcc) reported

@ThunderBrush hey @ThunderBrush, I feel the Paladins 2 discourse doesn't mean that fans just want a sequel for no reason. It means the game right now has a lot of problem and needs a lot of work to fix all of them, about as much as creating a new game

Vulphox, The Foxy

(@vulphox) reported

@ThunderBrush In my eyes, Paladins 2 would ideally have to be a clean slate in terms of code, graphics, and gameplay elements. With a project scope that big, you might as well go all out with it I'd say. But the fact that Paladins is a live service game, it would seem unlikely to happen.

Tuxadracles

(@tuxadracles) reported

@ThunderBrush I don't think we need a Paladins 2. But we need more official modes. Playing Siege, Onslaught and TDM after awhile gets really boring. Would also love Paladins to fix spaghetti code so we can have POTG back. Also an updated graphics engine :)

˵╹ω╹

(@trillthehuman) reported

@PaladinsGame why can't I play real games anymore!? The lag is so bad. Even training games are lagging. Ones where I'm literally by myself. Bots on my team as well. What's going on? It was never like this before.

👑 𝕵𝖆𝖗𝖑 𝖄𝖆𝖟𝖆 👑

(@Yazanios) reported

@ThunderBrush For example, Apex Legends recently made new animations for healing , shielding etc..they didn't have issues, but they changed them still. I think Paladins could do stuff like that, especially with mounts, because rn the bike animations are bad, and they are the rarest mounts

Jan | average VII hater

(@BrokenGoddessIo) reported

@ThunderBrush I think paladins 2 could be a sequel of some kind, a way to fix some things that are old and "lacking", like kits, old lore, old designs, plot holes and just having an actual long-term roadmap. Oh and better UI and new talents

ThunderBrush

(@ThunderBrush) reported

@LordFoxxio Problem here is that as a live service game Paladins has been in development for 6-7 years now, I've been on it for 5. A new project from scratch realistically needs to fit into a roughly 3 year window to be viable I think. You can scale teams but it's not that simple.

Marcus #SaveTF2

(@OneWhoDoesRants) reported

I think I'm cursed to never be allowed to play with good netcode because the last 4 comp games I got into have been Smash Ultimate (bad netcode), Paladins (insane server issues with dcs/matchmaking), Multiversus (netcode can be pristine or atrocious) and now Splatoon 3 (see MVS)

Eurobeat Cowboy

(@iffymask) reported

Another of my biggest problems with Paladins aside from the reloads is lack of cover. Yes there's plenty of things to hide behind but I mean cover you can shoot over to make yourself a smaller target, Paladins needs more random objects thrown about for cover.

Madison 🦈 ⚔️ 🌸

(@tired_madison) reported

@BookerClay4 Even if they do fix Paladin by some ******* miracle, I'm still probably not going to resub after the complete and total disrespect and disregard shown for Paladins (and many other classes) this beta.

Lady FLiX Ponyton @clubanimalz :D

(@FLiXPony) reported

Me explaining WoW to @ItsADerpDrone "Basically... paladins broken"

Dennis L Wilkinson J

(@Fat_LynDen) reported

@Morkid_883 @holinka What's missing with Paladins, that you want them to add or fix? I'm sincerely curious.

Lordchrome

(@lordchrome1p) reported

@MrsGeekyLatina @PaladinsGame What bomb glitch

⏳Verendormu's Alteroth Misadventures⏳

(@Verendormu) reported

@abhinavjain87 That's speaking generally. Specifically for paladins? I will say I have a major problem with the way the person in charge of their design has been communicating. Super dismissive, zero interest in listening to or working with the community.

DaddyMouse

(@DaddyMousePalas) reported

Did anyone face the issue of Paladins crashing on startup? Right after the anticheat screen ends. Drivers are up to date, GPU is RTX 3060Ti, Win 10. Does anyone know of a solution to that? #paladinsgame

Krexxal

(@Krexxal) reported

-Paladins are still unhappy about the changes to Avenger's Shield, Retribution Aura, Justicar's Vengeance still being a talent despite nobody using it, and nobody liking Divine Steed -i'm sure there's plenty more trees with issues

Bruno

(@VanguardsZTV) reported

@holinka What slap in the face of paladin community!!! No changes, no developers notes, nothing! Atleast warriors get feedback every week, like almost other classes. Can you read forums? theres 500 pages of paladin feedback, PALADINS ARE SO POORLY DESIGNED, FIX THIS CLASS, READ FORUMS

Ol' Santa Joe

(@OlSantaJoe) reported

You know I'm actually kinda curious if androxous mains actually agree if the current iteration of cursed revolver is overtuned/broken/unhealthy. I've played cursed revolver and it feels like a crutch talent, just wondering if real andro mains think so too. #paladinsgame #Paladins

KarismaticKoala

(@KarismaticKoala) reported

@GGmrRogers Too no one's suprise Percival is back on the restrict list..... It's almost like he should of never been printed or let off the list in the first place... The card has been a problem since he was printed no future proofing no premium proofing and now gold paladins has to pay

Kokia (Commissions Open)

(@Kokioto420) reported

@xevoraven @Fed0raTheXplora yea its just a problem when people make porn of talus and justify it w that "all paladins characters are 18+" which i think was said by a dev i forgot who exactly

Tuxadracles

(@tuxadracles) reported

@OverwatchNaeri That's actually pretty generous. Paladins does something similar where every 6th and 7th login you get crystals their paid currency.

Steve Fidler of Vorpal Dice Press

(@vorpaldicepress) reported

@ThinkingDM @Tim_Eagon The OTHER issue with class agnostic subclasses is subclasses should interact with the class. Fighter subs scale off EA, Bards mostly give a BI use, Paladins give a CD, etc. How do you do that with an agnostic sub?

mrow🦴 in graphic design hell

(@saewokhrisz) reported

can hirez fix the graphics issue for paladins i kinda wanna play again

MasterMRL (Paladins 3DAsset Collector) #SaveMaoMao

(@M_MRL_Paladins) reported

What's the worst drama/woke ever in Paladins Community that you had seen? For example, like toxic people complaining about Io's age, YandereQueen, BunnySeris, Switch Crash Twitch, Whitewashing Azaan, Non-canon ships, Pepper/Salt/Sugar complaints, Talus' unknown age, or others?

|• RIKI •|

(@ow_riki) reported

@Eldritch_Derg @BeanOfCatte nah paladins modern problems are mostly just game design issues that started seeping into it within the last two years or so. "Ow clone" believers were never gonna give it a fair chance anyway

Eldritch

(@Eldritch_Derg) reported

@ow_riki @BeanOfCatte I'm pretty sure that paladins kind of swerved into its current issues due to the massive popularity hit it took from that dunkey video, like the opinion on that game changed overnight it was absurd at the time (haven't played paladins in a while, mostly just an educated guess)

|• RIKI •|

(@ow_riki) reported

@Eldritch_Derg @BeanOfCatte Def a hilarious take. Paladins is in no way an overwatch clone but I'd say that basis for criticism is the least of its problems rn. His Hots review vid aged super poorly too but at least he came back and said a little "oopsie this game is good I was wrong oh well🥴" right??