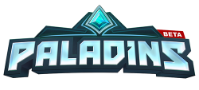 Is Paladins down?
No problems detected
If you are having issues, please submit a report below.
Paladins: Champions of the Realm is a free-to-play multiplayer Hero shooter video game released on September 16, 2016 as an early access product by Hi-Rez Studios.
Report a Problem
Problems in the last 24 hours
The graph below depicts the number of Paladins reports received over the last 24 hours by time of day. When the number of reports exceeds the baseline, represented by the red line, an outage is determined.
At the moment, we haven't detected any problems at Paladins. Are you experiencing issues or an outage? Leave a message in the comments section!
Most Reported Problems
The following are the most recent problems reported by Paladins users through our website.
Sign in

Online Play

Game Crash

Matchmaking

Glitches
Live Outage Map
The most recent Paladins outage reports came from the following cities::
| City | Problem Type | Report Time |
| --- | --- | --- |
| San Giovanni in Persiceto | Matchmaking | |
| Caledonia | Game Crash | |
| Plettenberg | Online Play | |
| Guarapari | Glitches | |
| Medellín | Sign in | |
| Tulsa | Matchmaking | |
Full Outage Map
Community Discussion
Tips? Frustrations? Share them here. Useful comments include a description of the problem, city and postal code.
Beware of "support numbers" or "recovery" accounts that might be posted below. Make sure to report and downvote those comments. Avoid posting your personal information.
Paladins Issues Reports
Latest outage, problems and issue reports in social media:
Bushwick_Johnnyman

(@BushwickJohnman) reported

@KristijanRain @RogueCompany Yeah same thing goes for paladins except for the lag i don't understand why they're just gonna move on to a different game and not gonna focus on their other ones

Antoni

(@antoni0208) reported

@PaladinsGame Ok but when will you fix your game???

tdyff

(@tduffkin) reported

@gamingonlinux fair play. good that they're actively parching Linux support since there's been a few cases (Halo Infinite, Paladins) where a working patch one day will be broken the next when they update. Explicitly supporting Linux is a big win

MasterMRL (Paladins 3D Asset Resource Collector)

(@M_MRL_Paladins) reported

I wish We could ask Community Manager to take a look into Paladins and fix the Ranked Days. But We don't have CM to fix it. Does Ranked need Extra Days? Here are few Reasons 1. Season 6 Showcase's happening on Jan 23 2. Event Pass have more days than Ranked 3. 10K Players show up

Sindorein

(@Sindorein1124) reported

So, the snap threat problem that ret paladins have historically had in aoe situations is now also occurring more frequently in single target as well. Solution: Please give us something resembling the old Fanaticism talent! Prot needs the threat from holy damage, but ret doesn't!

ぶいすぽ好きのオムラ

(@yuriy97028800) reported

@PaladinsGame I am a Japanese playing on Switch, and when I open paradins on Switch, it is written in English. Please fix it.

George Adair

(@odd_tones) reported

@batman95545354 @PaladinsGame Dude same they need to fix that the game used to be playable on steam deck but now it doesn't work

Infernal / 地獄の

(@AlandreaRogers) reported

So uh until I get my computer back to functioning (good news is that it's not the GPU! Infact it's probably the motherboard being broken again or a simple setting that I haven't found yet!) I'll just do random paladins polls until I'm back :) Which is the best map? (1/?)

Loco LoboXIII

(@loco_loboxiii) reported

Please change the name of Training mode to Humans vs 5. You intentionally programmed only friendly bots to spin circles like idiots. Enemy bots have no issue finding something useful to do... @PaladinsGame

esteman

(@Settringh) reported

@PaladinsGame what a beautiful kingdom you have, I wish your LATAM servers would work without lag

MasterMRL (Paladins 3D Asset Resource Collector)

(@M_MRL_Paladins) reported

Rip. Paladins didn't show me a queue and I was waiting for it to show me it. I guess that it might be broken because it didn't show me searching/queueing. I had to restart to fix the queue then come back to play and got a Deserter.

Dark Samurai

(@Dark_Samurai188) reported

@PaladinsGame Fix Your Game

Gaming & Wrestling

(@GamingWrestlin2) reported

@PaladinsGame HELLO.. IT'S ME. Just here with the typical Octavia gripe and bug. can y'all fix her getting stuck on imaginary walls that aren't even there please.

trey cobain

(@trey_cobain) reported

@GarciaBermude @PaladinsGame No problem

Juicin'

(@JukieLeJuicebox) reported

Considering playing paladins for my next stream on Tuesday, only issue is voice chat bc I stream off of ps4 but I'll figure something out

Sindorein

(@Sindorein1124) reported

It would be different if threat was a more universal issue that all dps specs needed to consider on a pull or a new add pack, but it is ret paladins *specifically* who seem to have an abnormally high threat : damage done ratio.

I do commissions

(@FlaskofSins) reported

Vii has to be the most secret broken champ ever. He has 40 bullets, his burst shoots 6 and consumes 3, he 2 taps with burst, he has crazy free movement and he has a really good ult. The only thing that would "balance him out" is that he doesn't have DR in cards. Ty Paladins

Awipi Pío

(@duensama) reported

@PaladinsGame WHY IS IT THAT I CANNOT INVITE ANY PLAYER THATS ON THE SAME CONSOLE I AM(PS4)? MY PC FRIENDS CAN INVITE AND JOIN NO PROBLEM. WHAT IS UP!?!?

Infernal / 地獄の

(@AlandreaRogers) reported

So uh until I get my computer back to functioning (good news is that it's not the GPU! Infact it's probably the motherboard being broken again or a simple setting that I haven't found yet!) I'll just do random paladins polls until I'm back :) Which is the best map? (1/?)

Sly Cooper

(@Bllzeden) reported

@SOLAC3_ I personally didn't quit Paladins because of toxicity, besides we can mute people so it's not a problem. What made me quit is the bugs, lags, the balance of the game and the fact that a lot of good players left the game so the level decreased a lot, I can't enjoy it.

S-B0rgar

(@SleekyB0i) reported

Has anyone else been getting a black screen in paladins once a match ends? It's been happening very often for me these past two days. I still hear people shoot and use abilities sometimes so it makes me think other people are having the same issue.

Max Clark

(@Clarkstergames) reported

@deals_pokemon @paladincards20 People hating on Paladins Cards? Lmao never had any problems ever when buying from Paladins. This community be getting spiteful👀

TTV B1gC0untryDad81

(@B1gC0untryDad81) reported

from Parma, Ohio

@XboxSupport some of my games on the series S and X, like fortnite, fall guys, apex legends, cyberpunk, call of duty vanguard, paladins, hot wheels all have a triangle with exclamation point in them what does this mean. Please help tried everything to fix it.

T.E.D. ✊🏾✊🏿✊ 🇺🇦👍

(@TedDennison) reported

@Novijen @loganbonner Still, this sucks compared to what 5E does with Paladins where they can create "oaths" completely untethered to alignments, like Ancients or Glory. I wish there was some good way to fix this.

☕️KEY/チワワ: cold island enthusiast

(@chiwawacafe) reported

I remember trying to play the paladins release back in 2016 and it was so broken I couldn't make an account so I just never played

Recon Ghost Fella 🍒

(@reconghostsamar) reported

@SlavaUkraini333 @mp4995491 @visegrad24 And there's been a lot of 155mm howitzers pledged recently. 18 M109 Paladins by the US, 30 AS90 by the UK, dozens of FH70 by Estonia, 19 Caesars by Denmark, 12 Archers by Sweden, 16 Zuzzana2, etc. That is over 100 guns. And there are still more in service that could be sent.

Famenor

(@Famenor_) reported

@xaviersonline after trying overwatch 2 i can say unironically that paladins is superior in every single aspect has a better tactical formula that doesn't stop it from being fast and fun, there isn't a super broken character or class like the tanks in overwatch or either a weak one, +

Farpin

(@Farpin4) reported

@PaladinsGame i got suspended for no reason i emailed hi-rez to find out what was the problem and they didnt even responed to me for 48 hours already nice job hi-rez keep it going

Antoni

(@antoni0208) reported

@StalkerWanted @PaladinsGame They should fix it before making a second game

Brian Lacy

(@creatorbri) reported

@alavergh @PaleoDM Or -- I dunno, just spitballing -- they still feel betrayed and exploited and that the issues haven't been resolved and that the hurt can't be paved over with placatory statements and lofty yet ultimately meaningless promises. But, warlocks *are* better than paladins.