Waze Outage Map
The map below depicts the most recent cities worldwide where Waze users have reported problems and outages. If you are having an issue with Waze, make sure to submit a report below
Loading map, please wait...
The heatmap above shows where the most recent user-submitted and social media reports are geographically clustered. The density of these reports is depicted by the color scale as shown below.
Waze users affected: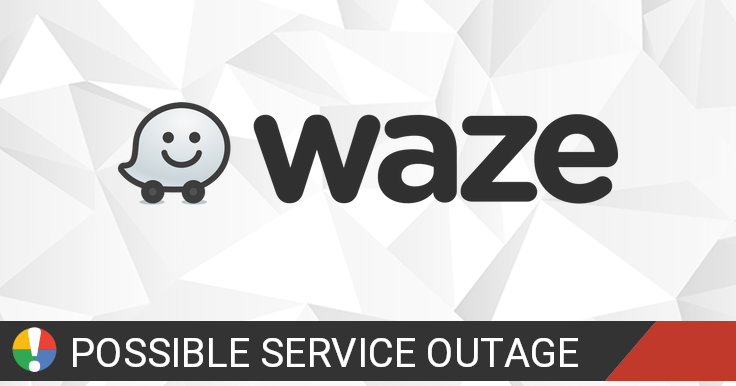 Waze is GPS navigation software that works on smartphones and tablets with GPS support and provides turn-by-turn navigation information and user-submitted travel times and route details, while downloading location-dependent information over a mobile telephone network.
Check Current Status
Most Affected Locations
Outage reports and issues in the past 15 days originated from:
| Location | Reports |
| --- | --- |
| São Paulo, SP | 6 |
| Lima, Provincia de Lima | 4 |
| Madrid, Comunidad de Madrid | 3 |
| Paris, Île-de-France | 3 |
| Quito, Provincia de Pichincha | 2 |
| Natal, RN | 2 |
| Medellín, Departamento de Antioquia | 1 |
| Lille, Hauts-de-France | 1 |
| Boston, MA | 1 |
| Evergem, Flanders | 1 |
| Mexico City, CDMX | 1 |
| Viña del Mar, V Región | 1 |
| San José, Provincia de San José | 1 |
| Zapopan, JAL | 1 |
| Niterói, RJ | 1 |
| Hamm, NRW | 1 |
| Wayne, MI | 1 |
| Sonning Common, England | 1 |
| Basiliano, FVG | 1 |
| Mont-Saint-Aignan, Normandie | 1 |
| Vienna, Wien | 1 |
| Ciudad López Mateos, MEX | 1 |
| Ellicott City, MD | 1 |
| Santiago, Región Metropolitana | 1 |
| Caseros, BA | 1 |
| Brussels, Bruxelles-Capitale | 1 |
| Alfortville, Île-de-France | 1 |
| Vicovaro, Lazio | 1 |
| Salem, OH | 1 |
| Valley Springs, CA | 1 |
Community Discussion
Tips? Frustrations? Share them here. Useful comments include a description of the problem, city and postal code.
Beware of "support numbers" or "recovery" accounts that might be posted below. Make sure to report and downvote those comments. Avoid posting your personal information.
Waze Issues Reports
Latest outage, problems and issue reports in social media:
Medina Majic

(@Medinatime) reported

from Sugar Land, Texas

@waze Just not working. Frequently says Searching Network yet all my other Apps are working just fine. Also, lost all my points/status when I got a new phone...SMH. Nothing changed as far as username and all that.

Ro Parry

(@RougeParry) reported

from Crystal Bay, Nevada

Made the mistake and trusted a service like @waze driving to Tahoe Friday. app is clearly not designed for seasonality. During major weather issues, #waze should defer recommendations to Caltrans rather than try to supersede it with their janky Machine data. #fakemaps

MaNcanana

(@nomalangamathe) reported

from Durban, Province of KwaZulu-Natal

@_Phungs Lmao Waze waphapha Bo, I was working izolo and I'm tired

∞

(@ShaeNicole18) reported

from Batangas City, Calabarzon

I turned on the GPS of the car, the main road does not exist anymore. My waze wasn't even working. This is where the point i really got scared AF.

Kennedy

(@PlatosStory) reported

from Dallas, Texas

@RxsieWoop @waze I cannot fix that lol

Craig Page-Lee

(@cpl_ignite) reported

from Cape Town, Western Cape

@grightford Gillian! I'm fed up beyond belief with @Uber_RSA mao issues. Must admit though that I've been having same problem using google maps for getting around CT the past month. Waze way better.

Rau1ito 🎮

(@Rau1ito) reported

from Napavine, Washington

The Waze app goes hard on road trips, the wife was smashing down the freeway then I see the cop pop up, tell her to slow down and get over, 30 secs later there's the 🐷

lee colleton

(@sleepylemur) reported

from Seattle, Washington

@dearappauthors @jehiah @waze It's weird but Waze is owned by Google. Problematic to assume "the user is always right" when the user is driving a car like a sociopath. This could be helped with a nudge in the right direction (i.e. "slow down" when approaching school zones, dangerous intersections, etc) #VZ

John Cavan

(@spqr_ca) reported

from Mississauga, Ontario

The problem with @waze is a lack of a good cost-benefit analysis in the algorithm. In other words, it's happy to send you up an expensive toll route, so you spend $10, to save 30 seconds.

Sean Gifford

(@Giffordy) reported

from West Babylon, New York

I feel like Waze recently gives you worst route possible with the most issues

Bill McNeely

(@billmcneely) reported

from Lewisville, Texas

@MystroDriver you are killing me. Turn on the app forces to Lyft but does not sign in. Flitters between Uber and Lyft even while navigating with Waze. Crazy

❌M Hinton 🇺🇸🇺🇸🇺🇸🇺🇸

(@mmgh17) reported

from Pleasant Point, Texas

@Breaking911 Police already use Waze to make people slow down all they have to is drive down the highway and Mark themselves. Everyone slows down Job is done

Scott Wible

(@scott_wible) reported

from Baltimore, Maryland

God damn you, @waze! Fix your algorithm around the Baltimore Harbor Tunnel/I-895. So much time lost!

The Purple Squirrel (Look it up)

(@OZSymington) reported

from Villas, Florida

@DetoxPoncho Apple gave up; and I left them off the hook. They couldn't reproduce the problem, and neither could my wife on her iPhone or iPad. It's got to be something with me, naturally! Now I find out that Waze doesn't work either.

Frank Miller

(@fgmtheatre) reported

from Herndon, Virginia

@waze I'm having network and loading issues w/ the app in the dc/northern Virginia area this morning.
Check Current Status