Warframe Outage Map
The map below depicts the most recent cities worldwide where Warframe users have reported problems and outages. If you are having an issue with Warframe, make sure to submit a report below
Loading map, please wait...
The heatmap above shows where the most recent user-submitted and social media reports are geographically clustered. The density of these reports is depicted by the color scale as shown below.
Warframe users affected: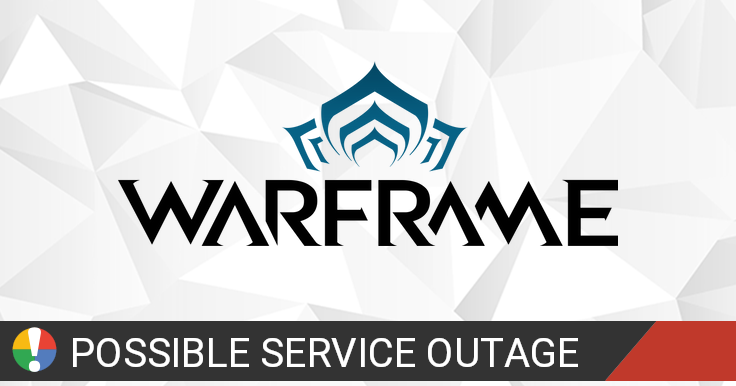 Warframe is a free-to-play cooperative third-person shooter video game developed by Digital Extremes for Microsoft Windows, PlayStation 4, and Xbox One. In Warframe, players control members of the Tenno, a race of ancient warriors who have awoken from centuries of cryosleep to find themselves at war with different factions.
Check Current Status
Most Affected Locations
Outage reports and issues in the past 15 days originated from:
| Location | Reports |
| --- | --- |
| Sydney, NSW | 5 |
| Singapore, Central Singapore Community Development Council | 5 |
| Melbourne, VIC | 4 |
| Male, Kaafu Atoll | 3 |
| Nova Iguaçu, RJ | 2 |
| Brisbane, QLD | 2 |
| Cavite City, Calabarzon | 2 |
| London, England | 1 |
| Orlando, FL | 1 |
| Moose Jaw, SK | 1 |
| Zlín, Zlínský kraj | 1 |
| Topeka, KS | 1 |
| Lake Zurich, IL | 1 |
| Green Cove Springs, FL | 1 |
| Micanopy, FL | 1 |
| Grovetown, GA | 1 |
| Beijing, Beijing Shi | 1 |
| Haughton, LA | 1 |
| Chambéry, Auvergne-Rhône-Alpes | 1 |
| Juazeiro do Norte, CE | 1 |
| Brussels, Bruxelles-Capitale | 1 |
| Lincoln, England | 1 |
| Vienna, Wien | 1 |
| Kolkata, WB | 1 |
| Treviso, Veneto | 1 |
| Merlimau, MLK | 1 |
| Osasco, SP | 1 |
| São Paulo, SP | 1 |
| Shah Alam, SGR | 1 |
| Olongapo, Central Luzon | 1 |
Community Discussion
Tips? Frustrations? Share them here. Useful comments include a description of the problem, city and postal code.
Beware of "support numbers" or "recovery" accounts that might be posted below. Make sure to report and downvote those comments. Avoid posting your personal information.
Warframe Issues Reports
Latest outage, problems and issue reports in social media:
I spy with one eye

(@RenderB) reported

Gave it another shot because ms removed the twitch tts app so I had need of an in-game chat overlay. Between how limited it is configuration wise and all these issues it's just not worth it. All this time later the "It's beta" argument also doesn't fly. *Beta* like warframe/gmail

quza

(@quza27159475) reported

@PlayWarframe Hi @PlayWarframe there is a bug each time using your operator when you back in your Warframe can't do anything it ruins the missions and I can't play the game I hope you guys fix it 🙏

sevagoth

(@seniorcole11) reported

The new war has me cryin rn watching the lotus crumble into nothing but a spectre my operator living on earth in his broken orbiter I don't have a warframe ballas is a *******

Echigo 🍬 NSFW

(@EchigoNSFW) reported

@Zim4blu As someone who has played Warframe for years split scaling is not a problem me. My problem is getting the right artfact sub stats to do split scaling. I've never seen a system as garbage as this.

Niron

(@NiRon_68) reported

@PlayWarframe Pls fix CPU utilisation in warframe, i have like 120 fps in deimos because my CPU is at 100% (i have a ryzen 7 5800x and a RX 6900 XT)

Lil Rora

(@Smol__Rora) reported

And with the new focus on Warframe and Operator gameplay it causes all kinds of problems for Yareli and Merulina like having to dismount to chase void angels and auto dismounting when swapping to the operator so when we go back to Yareli we're literally ******

Faelibus 🐉 (Vtuber Debut tba)

(@Faelibusttv) reported

Currently genshin is grinding to a halt do to the same issues warframe felt, they would design new content for veteran players, alienating both. Its really sad to see another game with so much promise fall apart for the same reasons again, and I hope hoyo gets it under control

Junik Wolfsen

(@JunikWolfsen) reported

@ltzShadow Warframe has this issue too. I managed to get back on track, but it was a little hectic in the beginning. That being said, my main issue with D2 is the paywall for content, especially weapons. As a strictly F2P and avid PvP player, the game can be a little P2W because of it.

John Witty

(@JohnWitty10) reported

@playlostark Only asian games have to do all of these things being off for long times. Games developed in the west has no such trouble. I could mention GW2 and Warframe. Whatever they have to do, they do it, then they just release whatever fixes they have for us to download and play.

Emilia Scarletti

(@hauntedp0poto) reported

I've been playing Genshin Impact for about a day now. There doesn't appear to be any kind of daily login bonus like in Azur Lane or Warframe. Also some of the currency, like primogems, I have no idea what to do with.

Emilio Lewis

(@EmilioLewis4) reported

@noahgrahm @Lammmy_Z @FrenchieHugo Theres really no reason why it should have hit my performance then, Warframe is constantly updating its visuals and my performance never changes. Lighting in itself shouldnt tank my performance like that. Theres also the issue of Tangled Shore, that place is a dev nightmare.

ASSASSINED WOLF

(@AssassinedW) reported

@Arrrrash Warframe is easily the best live service model. Allow me to explain. Between player driven marketing and multiple avenues of customization gathering it doesn't limit story, gameplay or functionality behind I paywall. It only asks for time. Time that honestly should only take 1/2

The Slight Misgivings

(@Jonnypanicky) reported

@Exile451 @CaseyExplosion I don't know about Warframe, but the main problem for me is the overdesigned combat. It's really clunky, frustrating. FPS platforming never really works. Also level design is repetitive - arena, jumpy bits, arena... not much exploration.

SylkRode

(@EHomunculi) reported

@JohnTheOddBall I was a mess for like two weeks after finishing it. Might have had something to do with apprehension over the pending release of #Warframe the New War. It gave Mr Mommie issues.

Solar-powered Hex

(@HexTheOutcast) reported

So uhh just went a several tweet diatribe about how Destiny 2 & Warframe are rivals in the Live Service Looter-Shooter genre but no one wants to admit it or compare the 2 simply because one is an FPS & the other is 3PS. That's how burned out with both. How's your day going?
Check Current Status