Rainbow Six: Siege Outage Map
The map below depicts the most recent cities worldwide where Rainbow Six: Siege users have reported problems and outages. If you are having an issue with Rainbow Six: Siege, make sure to submit a report below
Loading map, please wait...
The heatmap above shows where the most recent user-submitted and social media reports are geographically clustered. The density of these reports is depicted by the color scale as shown below.
Rainbow Six: Siege users affected: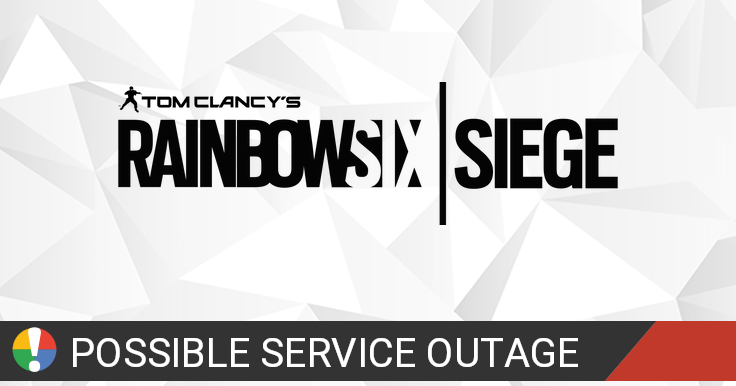 Tom Clancy's Rainbow Six Siege is a first-person tactical shooter video game developed by Ubisoft Montreal and published by Ubisoft. Siege puts heavy emphasis on environmental destruction and co-operation between players through tactical movements, advancements, defensive positioning, calling out enemy locations and the operators chosen by the enemy team.
Check Current Status
Most Affected Locations
Outage reports and issues in the past 15 days originated from:
| Location | Reports |
| --- | --- |
| Milan, Lombardia | 13 |
| São Paulo, SP | 11 |
| Sydney, NSW | 11 |
| Paris, Île-de-France | 9 |
| Ulhasnagar, MH | 5 |
| Rome, Lazio | 5 |
| Nice, Provence-Alpes-Côte d'Azur | 4 |
| Brasília, DF | 4 |
| Málaga, Andalucía | 4 |
| Curitiba, PR | 4 |
| Guarujá, SP | 4 |
| Florence, Toscana | 4 |
| Guadalajara, JAL | 3 |
| Bologna, Emilia-Romagna | 3 |
| Barcelona, Catalunya | 3 |
| Brisbane, QLD | 3 |
| Norwich, England | 3 |
| Alicante, Comunitat Valenciana | 3 |
| Campinas, SP | 3 |
| Kingston upon Hull, England | 3 |
| Brussels, Bruxelles-Capitale | 3 |
| Arganda, Comunidad de Madrid | 3 |
| Passo Fundo, RS | 3 |
| Blackpool, England | 3 |
| Montesilvano Marina, Abruzzo | 3 |
| Naples, Campania | 3 |
| Melbourne, VIC | 3 |
| Versailles, Île-de-France | 2 |
| Arrondissement de Marmande, Nouvelle-Aquitaine | 2 |
| Sheffield, England | 2 |
Community Discussion
Tips? Frustrations? Share them here. Useful comments include a description of the problem, city and postal code.
Beware of "support numbers" or "recovery" accounts that might be posted below. Make sure to report and downvote those comments. Avoid posting your personal information.
Rainbow Six: Siege Issues Reports
Latest outage, problems and issue reports in social media:
2lazy2jz

(@2lazy2jz) reported

@Rainbow6Game remove the ump and give them a better gun stop nerfing good guns and buff bad ones rework blakcbeard and fix desync im tired of landign 4 headshots only to half health someone

Chris Brownie

(@Chrisbrowniesk8) reported

@JerichoFive @Rainbow6Game Thats cool, but the problem is that Ubi just don't want to make the effort :(

Myne

(@Myne_R6) reported

@RevoltRobbieYT @Rainbow6Game Probably Blood Orchid. But this game had been out for 6 years and still cant fix headshots

Josh

(@EliteElicts) reported

@Rainbow6Game FIX YOUR ******* **** GAME IM GOING TO COP A 3 DAY BAN BECAUSE I CANT JOIN BACK WHEN MY GAME CRASHES

James Mitchell

(@Ultraviolet685) reported

@Rainbow6Game Fix you ******* game wrong sounds play and fix the cheater with hight pings ban them up and hard ware if they can't play fairly

RANDO RECRUIT

(@recruit_rando) reported

@Rainbow6Game Bro please fix sound glitch I get 10 of these every time I play

Skylar Jayde

(@SkylahJayde) reported

@Rainbow6Game is literally not enjoyable anymore. My entire team got DDOS'd and this happens VERY often. Fix your **** game. I'm tired of my team and myself getting ddos attacks

.00223 I Kenji 🇯🇵🇨🇦

(@Kenjimeistor) reported

@Travis_anaR6 @GoobyR6 @Rainbow6Game I had a higher KD in CL. But you genuinely don't think siege has a cheater issue so you HAVE to be bad. Any good player can tell a closet cheater from an actually good player lol

Big Togna

(@BiggerTogna) reported

@Rainbow6Game fix your janky *** trophies

Lumxzz

(@lumoxz) reported

@UbisoftSupport @Rainbow6Game I've had enough now. Fix your damn glitches before anything else, needs work man. Like how you gonna add stuff to the game but the game itself don't be working! I've had enough of this glitch: Controller disconnected.

Joseph Czyzewski

(@joczy119) reported

@fueax @JerichoFive @Rainbow6Game I was trying to joke around but its good with only a few guns, this one might be that... like jagers carbine, the PDW and that ar of Mav and maybe two other guns. I gotta stealth it up when roaming or roam clearing. Cavs vigil and 3 speeds like them can cause trouble so sneak it

Tesial 🇬🇧🎃😈

(@TesiaI_) reported

@RevoltRobbieYT @Rainbow6Game Skull rain to Blood orchid everything after that except Operation DDoS (Grim Sky) was awful and is awful

DoggySpeedy6

(@Jacksepticpuppy) reported

@Rainbow6Game Ay so, my microphone has been having issues on only your game, I've watched videos I've changed settings, I just can't figure out the problem, but it's only your game, it sounds staticky according to my friends and sounds horrid, what do I do to fix it?

seeyou_auntie

(@seeyou_auntie) reported

@Rainbow6Game No one cares about your doors you numpty *****. FIX. YOUR. GAME! Do yous even know what you're doing?

Lisichkov

(@LisichkovV) reported

@Rainbow6Game Fix your game from cheaters, and stop make idiot moves each seasons thanks.
Check Current Status