Starlink Outage Map
The map below depicts the most recent cities worldwide where Starlink users have reported problems and outages. If you are having an issue with Starlink, make sure to submit a report below
Loading map, please wait...
The heatmap above shows where the most recent user-submitted and social media reports are geographically clustered. The density of these reports is depicted by the color scale as shown below.
Starlink users affected: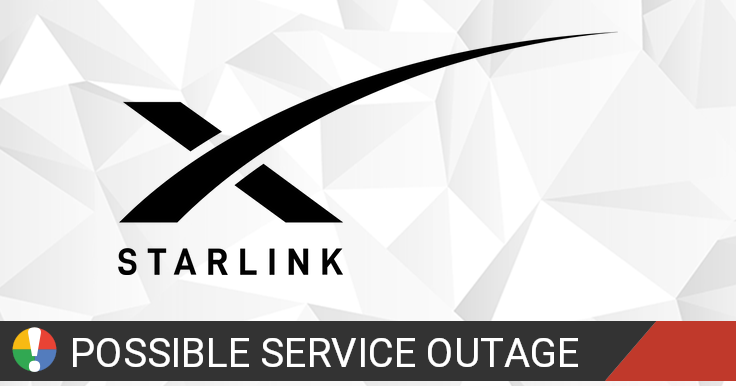 Starlink is a satellite internet constellation constructed by SpaceX providing a low latency, broadband internet system to meet the needs of consumers across the globe.
Check Current Status
Most Affected Locations
Outage reports and issues in the past 15 days originated from:
| Location | Reports |
| --- | --- |
| Toronto, ON | 59 |
| Sydney, NSW | 39 |
| Montréal, QC | 34 |
| Seattle, WA | 26 |
| Calgary, AB | 24 |
| Chicago, IL | 23 |
| Paris, Île-de-France | 21 |
| Dallas, TX | 18 |
| Vancouver, BC | 16 |
| Melbourne, VIC | 16 |
| Atlanta, GA | 15 |
| Brampton, ON | 15 |
| Brisbane, QLD | 14 |
| Winnipeg, MB | 14 |
| London, England | 14 |
| Denver, CO | 11 |
| Houston, TX | 11 |
| Ottawa, ON | 10 |
| Edmonton, AB | 10 |
| Portland, OR | 10 |
| Mexico City, CDMX | 10 |
| Los Angeles, CA | 9 |
| New York City, NY | 9 |
| Perth, WA | 8 |
| Halifax, NS | 7 |
| Phoenix, AZ | 7 |
| Regina, SK | 6 |
| Adelaide, SA | 6 |
| Lyon, Auvergne-Rhône-Alpes | 6 |
| San Jose, CA | 5 |
Community Discussion
Tips? Frustrations? Share them here. Useful comments include a description of the problem, city and postal code.
Beware of "support numbers" or "recovery" accounts that might be posted below. Make sure to report and downvote those comments. Avoid posting your personal information.
Starlink Issues Reports
Latest outage, problems and issue reports in social media:
Pascal Guichard 🌻 🇺🇦 🌻 💪

(@pguich) reported

@Angry_Staffer Nationalize starlink. Problem solved.

edgehaha

(@edgehaha) reported

@elonmusk Starlink is antiquated technology; it's too slow. Why should they pay you to keep that antique technology running?

Lucinda Aragon

(@lucyaragon) reported

@TheDanaWeiss What's his ulterior motive for providing starlink to students in the Amazon jungle? Or funding the filters in Flint Michigan? Even if there was a motive, isn't the important thing that people are getting help? And what proof do you have that he has a motive?

Sarah Othman

(@SarahLovesYouSo) reported

It would be short sighted of the US Government to attempt to prevent Twitter 2.0 from being built (by refusing to pay for Starlink in the way John Robb suggested), or impede an entrepreneur whose plans support social good and technological innovation.

what is it that makes today's spencer so different

(@socialunrealist) reported

@Louis_at_acam @TimothyDSnyder If it's a glitch then Starlink should say so and provide data to support their claim.

Truth4Free

(@BadrSal70701201) reported

@elonmusk Show respect to humanity and stop service. You know that if US stopped arming Ukraine Putin will not go further in war. Keep sending weapons to Ukraine & supporting with Starlink service is fueling & prolonging the war. That if u really aim to deescalate it.

Hashinshin

(@Hashinshin) reported

@elonmusk The U.S taxpayers paid for Starlink in Ukraine. He thinks you're too stupid to know that.

Dissecting the Markets | See pinned tweet

(@dissectmarkets) reported

@montana_skeptic Are there other satellite internet companies that can provide better service to Ukraine than Starlink?

CliffSmith 🇿🇦🇰🇷🇺🇦

(@CliffSmith3) reported

@elonmusk Milk this to build the Starlink brand. If it can win a war it will be the service provider of choice for decades to come.

James

(@Nakina_James) reported

@AVindman @elonmusk Dude! What is your problem. The board has a fiduciary duty to their shareholders which means they are not doing their job by allowing Space X to indefinitely fund Starlink for Ukraine….why are other contractors getting paid for their Ukraine contributions but not SpaceX

DataScienceExplorer

(@DataScExplorer) reported

@johnhawkinsrwn @elonmusk Trouble is they need, as per multiple comments from #Ukraine, they need the highest bandwidth to be able to communicate real-time from battlefield. So it won't be possible for the restricted cheaper option AFAIK. #Starlink

Khaled Alfaiomi

(@Alfaiomi) reported

Elon Musk: We will continue to fund Ukraine by providing Starlink services for free, even if we suffers losses Note : As an administrator of a large number of Starlink devices in Ukraine, I assure you that the service is not free and that we pay monthly subscriptions on time

I'm not giving my name to a machine

(@occamsshavngkit) reported

@TheRickWilson Starlink is out of rich of dictators Vs Vlad asked me to shut it down for Ukraine.

Ordinary Magic

(@OrdinaryMagic5) reported

@Angry_Staffer Musk removed StarLink service for Ukraine though, after his chat with Putin.

Facts Chaser 🌎 🐶 🤦🏻‍♂️

(@Factschaser) reported

@StanDevFromMean @JamieMcullough @jasondebolt Any "losses" SpaceX accrues over Starlink support for Ukraine will be tax deductible. Did Musk mention that? No! Why not?
Check Current Status