Office 365 Outage Map
The map below depicts the most recent cities worldwide where Office 365 users have reported problems and outages. If you are having an issue with Office 365, make sure to submit a report below
Loading map, please wait...
The heatmap above shows where the most recent user-submitted and social media reports are geographically clustered. The density of these reports is depicted by the color scale as shown below.
Office 365 users affected: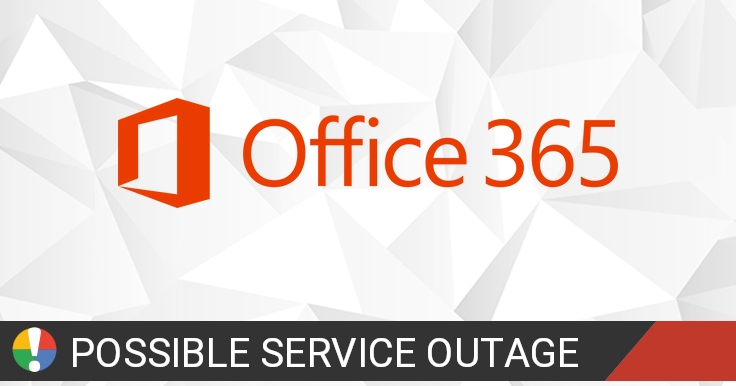 Office 365 is an online productivity suite that is developed by Microsoft. Office 365 contains online and offline versions of Microsoft Office, Skype and Onedrive, as well as online versions of Sharepoint, Exchange and Project.
Check Current Status
Most Affected Locations
Outage reports and issues in the past 15 days originated from:
| Location | Reports |
| --- | --- |
| Bogotá, Distrito Capital de Bogotá | 4 |
| São Paulo, SP | 4 |
| London, England | 4 |
| Adelaide, SA | 3 |
| Madrid, Comunidad de Madrid | 3 |
| Paris, Île-de-France | 3 |
| Sydney, NSW | 2 |
| Indianapolis, IN | 2 |
| Frankfurt am Main, Hessen | 2 |
| Guadalajara, JAL | 2 |
| Los Angeles, CA | 2 |
| Birmingham, England | 2 |
| Santiago, Región Metropolitana | 2 |
| Singapore, Central Singapore Community Development Council | 2 |
| Delhi, NCT | 2 |
| Mississauga, ON | 2 |
| Tours, Centre-Val de Loire | 2 |
| Salamanca, Castilla y León | 1 |
| York, ON | 1 |
| Minneapolis, MN | 1 |
| Concord, NH | 1 |
| Hackensack, NJ | 1 |
| Upton, England | 1 |
| Rijeka, Primorsko-Goranska Županija | 1 |
| Sheffield, England | 1 |
| Guer, Bretagne | 1 |
| Newmarket, England | 1 |
| Osasco, SP | 1 |
| Dayton, OH | 1 |
| Santo Domingo, Provincia de Heredia | 1 |
Community Discussion
Tips? Frustrations? Share them here. Useful comments include a description of the problem, city and postal code.
Beware of "support numbers" or "recovery" accounts that might be posted below. Make sure to report and downvote those comments. Avoid posting your personal information.
Office 365 Issues Reports
Latest outage, problems and issue reports in social media:
Prestige IT NZ

(@prestigeitnz) reported

Issues with MS outlook not seeing body of email message @Office365 ?

Quick Excel Tips

(@blackswantrain) reported

Double-Click Autofill Handle to do Whole Column: Instead of dragging the Autofill handle to copy down the column, double-click it and it will do the whole column automagically. #Office365 #Excel

marcus

(@defaultsphere) reported

I'm honestly kinda sick of windows pushing office365 down my throat after every update. Like damn I just wanna draw and play games

Dementor 🇮🇱

(@the_mentor) reported

Hi @Office365 if I have issues creating a new tenant who can I contact?

Julia Willets

(@jwillets) reported

@RRemainer @Office365 are you still having issues with apps on iPads immediately crashing without loading docs? Me too. Any word about this?

Lee Saxby

(@lee_saxby) reported

@zachtc @BJacksonWrites this 100% works, Was in at work at 6:30am NZST and spent 3 hours training to fix it based on Com Add-iN, Driver updates and even a reinstall of Office365. Soon as I saw this did it and fixed.

sean warde

(@seanwarde) reported

@sdpate @Office365 I'm having the same problem. Based in UK.

Joseph Garrison

(@JoeGarrisonNews) reported

Well now ... if you are having e-mail issues with Microsoft Office 365, don't worry about your computer. It is one of those WE issues, rather than a ME issue. Check back tomorrow and see if we are flying straight again.

JaykeBird Software

(@JaykeBirdCoding) reported

Testing on modern versions of Office isn't a problem. I have one PC on the Insider track of Office 365, one PC on the regular track, and one PC on the business track lol. I just want to test on older versions too!

OG media

(@OGCmedia) reported

Fix Office 365 5/11/21 update breaks Outlook with blank messages. Open a command prompt cd "C:\Program Files\Common Files\microsoft shared\ClickToRun" and press enter. Type officec2rclient.exe /update user updatetoversion=16.0.13901.20462 and press enter.

uttej

(@uttej_) reported

@__muscles @Azure Azure only supports 5 IDPs out of box and okta is not one of them. But I have pushed down Okta users to Azure via Office365 integration, it is a workaround

N

(@Nocturnal) reported

This Office 365 Outlook reading pane issue is a nightmare. How does this even happen?

Bob Reynard

(@Robbo_Fox) reported

@GavinHuet @Office365 its the 2104 version that's the issue- downgrade to 2103 if you can

Commercial Networks

(@CNLTD) reported

Office 365 having issues with outlook at present blank emails and can't enter content don't panic it will soon be resolved #office365 #smb

Rob Nicholson

(@bigusrobus) reported

Anyone having an issue with Outlook on Office 365?
Check Current Status