Interactive Brokers Outage Map
The map below depicts the most recent cities worldwide where Interactive Brokers users have reported problems and outages. If you are having an issue with Interactive Brokers, make sure to submit a report below
Loading map, please wait...
The heatmap above shows where the most recent user-submitted and social media reports are geographically clustered. The density of these reports is depicted by the color scale as shown below.
Interactive Brokers users affected: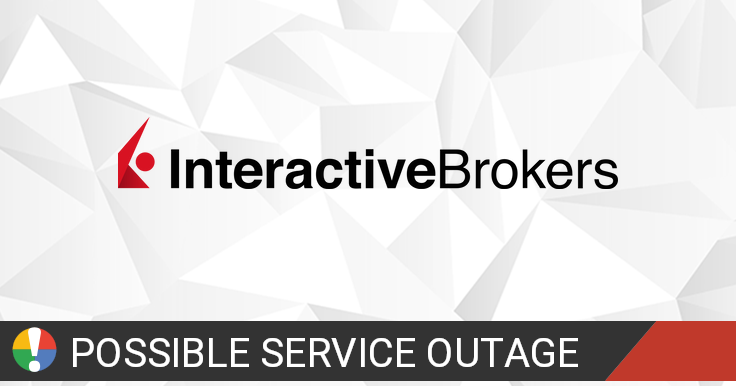 Interactive Brokers LLC is a U.S.-based brokerage firm. It operates the largest electronic trading platform in the U.S. by number of daily average revenue trades. The company brokers stocks, options, futures, EFPs, futures options, FOREX, bonds, and funds.
Check Current Status
Most Affected Locations
Outage reports and issues in the past 15 days originated from:
| Location | Reports |
| --- | --- |
| San Miguel de Tucumán, TM | 3 |
| London, England | 2 |
| Benissa, Comunitat Valenciana | 1 |
| San Vicent del Raspeig, Comunitat Valenciana | 1 |
| Alcalá de Henares, Comunidad de Madrid | 1 |
| Calgary, AB | 1 |
| Kanata, ON | 1 |
Community Discussion
Tips? Frustrations? Share them here. Useful comments include a description of the problem, city and postal code.
Beware of "support numbers" or "recovery" accounts that might be posted below. Make sure to report and downvote those comments. Avoid posting your personal information.
Interactive Brokers Issues Reports
Latest outage, problems and issue reports in social media:
LucaSino

(@luca_sino) reported

@SmokeyStock I'm holding $MMTLP on my @Trading212 I had a talk on live support, they assured me they are going to replicate @IBKR according to final form S-1 approved by SEC. #goinglong #mmat $mmat

CandyLL

(@CandyLL128) reported

@IBKR Lying down to make money!

Thomas Pettersson

(@moroncarrot) reported

@IBKR Why would i want and support US stocks?

Ex

(@Ex09820144) reported

@IBKR Today in not working for day trade

a

(@5123feng) reported

@IBKR Assure is a Web3.0 multi-chain encryption aggregation service platform @Assure_pro

Rayner Teo

(@Rayner_Teo) reported

[50 DAYS] Hey Interactive brokers @IBKR, I can't access my client portal. Tried changing browser, VPN, clearing cache, mobile, etc. Nothing works. I've raised this issue 50 days ago via email and phone call. But still no updates. Help?

a

(@5123feng) reported

@IBKR Assure is a Web3.0 multi-chain encryption aggregation service platform @Assure_pro

Norma Jordan

(@normajordan56) reported

@___monty @IBKR Good thing I didn't wait for the customer support as they were unresponsive for my account to be fixed, I was referred to @zems_ins by a friend and they were able to resolve the problem.

@ashappdev

(@ashappdev) reported

@levelsio @onveston @IBKR This can only be judged over a 10 year period TBH. But indexes beat most. CAGR of Tesla has been 50% since inception. But for many periods (3-4 years) you would be down 50%, not up 12,900% I'd argue accumulated tech indexes are the best. But we don't have enough data yet.

David Hagmann

(@davidhagmann) reported

Curious if anyone had an issue with @IBKR's sign-up incentives. Supposed to receive $1k in shares and just never did. Their customer service is awful: no record of the signup incentive, and they will not adjust manually. Huh? Would expect more from a reputable platform #IBKR

Thomas Braziel

(@ThomasBraziel) reported

@ChrisDeMuthJr @QTRResearch @IBKR Haha - IB customer service is usually the worst

LesCanTrade

(@LesCanTrade) reported

Hey @IBKR. What's up with your service today? Taking the weekend off? Locked out of my account so instead of spending the weekend trying to configure your insanely convoluted #TWS, here I am in limo until you roll into the office Monday AM after the premarket open. #notcool

a

(@5123feng) reported

@IBKR Assure is a Web3.0 multi-chain encryption aggregation service platform @Assure_pro

Vijay Desai

(@vvd2101) reported

@EmmetPeppers @IBKR @invest_answers made a good point, that cost to service debt is ~5.2% of GDP (assuming a 4% benchmark rate), which will be impossible when we grow slower than that. We could also use future GDP growth expectations to compute cap on interest rate.

FlowAnalyst

(@FlowAnalyst) reported

@IBKR Hi, do you provide Advances/Declines index similar to TRIN-NYSE? Seems customer service isn't sure based on online threads.
Check Current Status