Halo Infinite Outage Map
The map below depicts the most recent cities worldwide where Halo Infinite users have reported problems and outages. If you are having an issue with Halo Infinite, make sure to submit a report below
Loading map, please wait...
The heatmap above shows where the most recent user-submitted and social media reports are geographically clustered. The density of these reports is depicted by the color scale as shown below.
Halo Infinite users affected: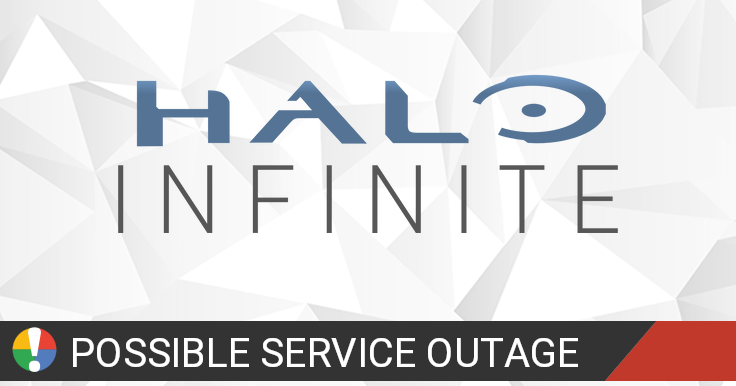 Halo Infinite is a first-person shooter game developed by 343 Industries and published by Xbox Game Studios. It is the sixth main entry in the Halo series with the multiplayer portion of the game being free-to-play.
Check Current Status
Most Affected Locations
Outage reports and issues in the past 15 days originated from:
| Location | Reports |
| --- | --- |
| Sydney, NSW | 3 |
| Melbourne, VIC | 3 |
| Mérida, YUC | 3 |
| Guadalajara, JAL | 2 |
| Oaxaca, OAX | 2 |
| Toronto, ON | 2 |
| Helsinki, Uusimaa | 2 |
| Vigía, Estado Carabobo | 1 |
| Bad Neuenahr-Ahrweiler, Rheinland-Pfalz | 1 |
| Alicante, Comunitat Valenciana | 1 |
| Sundance, WY | 1 |
| Columbus, OH | 1 |
| Greater Sudbury, ON | 1 |
| Queens, NY | 1 |
| Miami, FL | 1 |
| Dayton, OH | 1 |
| Orem, UT | 1 |
| Louisville, KY | 1 |
| Veracruz, VER | 1 |
| Edmonton, AB | 1 |
| Montréal, QC | 1 |
| Abilene, KS | 1 |
| Torreón, COA | 1 |
| Torrent, Comunitat Valenciana | 1 |
| Brisbane, QLD | 1 |
| Brookline, MA | 1 |
| Christchurch, England | 1 |
| Bournemouth, England | 1 |
| Auckland, Auckland | 1 |
| Clermont-Ferrand, Auvergne-Rhône-Alpes | 1 |
Community Discussion
Tips? Frustrations? Share them here. Useful comments include a description of the problem, city and postal code.
Beware of "support numbers" or "recovery" accounts that might be posted below. Make sure to report and downvote those comments. Avoid posting your personal information.
Halo Infinite Issues Reports
Latest outage, problems and issue reports in social media:
CEP III Gaming

(@iii_cep) reported

@Halo I'm really trying to like the game, I really am and I want it to succeed but the MMR is a broken mess that needs to be put down like a rabid dog.

Dante Spada

(@dante_spada8) reported

Dear @Halo #HaloInfiniteMP #HaloInfinite , please fix your guns. 90% of them suck and don't actually kill players. You guys have a whole slew of guns from Halos 4 & 5 you can take from and yet you didn't. The game is good I just want to feel like its amazing. Sincerely, Dante.

LiquidoxFTW

(@LiquidoxF) reported

@Halo Games is unplayable, can't even level my rank because I negate all progress with the constant crashes. So for me all this other stuff yall doing is pointless because I can't even enjoy matches long enough anymore. Fix game crash issues please

John Doe

(@JohnDoe32509128) reported

@HaloGear @MegaConstrux @Halo FIX YOUR GAME? HELLO WE DONT GIVE A **** ABOUT MICRO TRANACTIONS AND ******* DOUBLE EXP FIX THE GAME FIX THE GAME FIX THE ******* GAME U DUMB MOTHER *******

Boone

(@benstumpo) reported

@Halo I've tried to be optimistic but for a "live service game" that got delayed a year and then released w/o base features from previous titles post launch support really blows. Really let the fans down, again..

Dwayne Eternal

(@Dw_Eternal) reported

@Halo (2/2) or it becomes an impacting issue for their life. Banning them clearly does nothing to stop them so hurt them financially or damage their lifestyle.

Hyunjae Kim

(@HyunjaeKIM1994s) reported

@Doncut97 @Halo I mean, they are more incompetent than I thought. How do you think they'll add new bundles? they even can't fix shoulder pad texture

Sayber

(@aSayberTaylor) reported

Banned for half hour for this **** halo infinite game crashing on me every other game cmon fix this game! @HaloSupport @Halo

Sayber

(@aSayberTaylor) reported

Halo infinite crashed again im banned for hour now I cant do this.... its too funny and hurts @Halo @Tashi343i @HaloSupport still looking for Fix!

Lionel

(@LLoya0504) reported

from Burleson, Texas

@brandonNxC @Halo Hell, just fix the desync and I'll be happy.

Cory Alexnder Gaston

(@CoryGaston) reported

@Halo fix ur weekly challenges this is pretty insane 10 btb games and not 1 total control. You're going to have to get rid of game mode specifics

Vᐰniellis

(@vaaniellis) reported

@tTaseric @Halo I know, Frank O'Connor wrote all these things (H3 terminals and new Forerunner lore), despite contradicting already established lore. But it would be nice to fix it, especially since the old version is more interesting.

Sean Chavez

(@ChaveyChedda) reported

@Halo FIX THE CRASHES IN YOUR GAME PLEASE

Lano

(@ItsLano) reported

@Nebuula @Halo This would be a good change, but we also need a service record, pre-game lobbies and leader boards to show off ranks. Without these features the ranks mean nothing.

Dave Careaga

(@TheRealAbalisk) reported

Ban expires with 10 minutes left. Matchmaking error. Restart Halo Infinite. Join BTB queue. It's freaking Stockpile. For the 57th time today. @Halo really?
Check Current Status