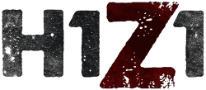 H1Z1 Outage Map
The map below depicts the most recent cities worldwide where H1Z1 users have reported problems and outages. If you are having an issue with H1Z1, make sure to submit a report below
Loading map, please wait...
The heatmap above shows where the most recent user-submitted and social media reports are geographically clustered. The density of these reports is depicted by the color scale as shown below.
H1Z1 is a survival sandbox massively multiplayer online gamepost-apocalyptic MMO in which you must fight for your live against a world overrun by zombies. Developed by Daybreak Game Company and available for Xbox, Playstation and Windows.
Most Affected Locations
Outage reports and issues in the past 15 days originated from:
Check Current Status
Community Discussion
Tips? Frustrations? Share them here. Useful comments include a description of the problem, city and postal code.
H1Z1 Issues Reports
Latest outage, problems and issue reports in social media:
Eggsbox

(@PREEMGAMINGHD) reported

@XRPrince_ They wont fix it bro and thats why i refuse to play it and pubg, I like my fortnite and cold war plus h1z1.

Rizla__ 🏴󠁧󠁢󠁳󠁣󠁴󠁿

(@twitchjamesfps) reported

@ThrillSeekerr fix the game pls @H1Z1

Paddy

(@paddy_546) reported

@FortniteGame 37 minutes later still can't get a game of duo arenas, fix up or I'm downloading H1Z1

ジ BattyFlaps ジ DEEZ NUTZ

(@JaayOnPC) reported

@JCPlump @pcgamer The problem is h1z1 listened to people.. What happened to it.. stuff got put in the game which ruined it. People begged for them to change the combat make it more like pubg.. they changed it.. and everybody hated it.. The problem is gamers aren't always right

Legacy Comics

(@TheLegacyComics) reported

@DaybreakHelp Hello, I am locked out of my account and the password reset is not working. The secret question it is asking me is not taking my answer, and I KNOW it's the correct answer. Please help asap.

Wizard

(@HighlandWizard) reported

@maryycherryy back in the H1Z1 days the Lady i mod for was getting stream sniped but in a diff way he find her and run around her singing some silly banana song hahaha but there was one that just killed her over and over and when she logged out of the game the *** DDos'ed her

thedoomsday9000 WAIFU

(@thedoomsday9000) reported

As an ex H1Z1 pro I feel like most battle royals don't need to be a esport. @PlayApex feels like it is the only good battle royal to watch in an esport scenario every other battle royal has a broken meta if it wasn't for that I would still play H1Z1.

🔴Live ttv/CrispyCaveman |

(@CavemanCrispy) reported

I feel like h1z1 was more fun than #escapefromtarkov at least h1z1 seemed fair. And the lag was non existent just crazy physics with the cars sometimes. @bstategames and #escapefromtarkov is a dumpster fire

Joe Burkett

(@ToolOfOpiate) reported

@chaoschaos111 @GamingAllAccess @CallofDuty Its a huge part of the issue. Free stuff gets hacked cheated on the most. Especially without any anti cheat established. Pubg and h1z1 full of cheaters. Apex has them too maybe not as many as the others but they still are there.

🔴Live ttv/CrispyCaveman |

(@CavemanCrispy) reported

My computer exceeds reqs and yet most games are unplayable due to lag. I had more fun playing h1z1 than #escapefromtarkov 1/10 development @bstategames

Mickey

(@Mickey68522) reported

@TheLegacyComics @DaybreakHelp Dm @viewcyberhelp ASAP he help me solved my problem when I have similar issue with my locked account. His good and fast

Drewplayzss

(@Drewplayzss) reported

@enadglobal7 fix the h1z1 market plz i just want to buy h1 skins plz put it back up

steve gean

(@stevegean55) reported

@TheLegacyComics @DaybreakHelp I suggest you reach out to @GraceCyberSaver on Twitter, they help with all hacked, banned, disabled,locked account related issues, she'll help you

Oğuz Ocakçı

(@OcakcOguz) reported

@enadglobal7 It's been a whole year since the last update for H1Z1 on PS4. If you won't update the game, fix the bugs, meet the demands of the players, then why did you buy the game??? You are worse than DayBreak Games !

Gilbert

(@Georgiaboi2478) reported

@H1Z1 Are yall gone fix this game??
Check Current Status