Google Cloud Outage Map
The map below depicts the most recent cities worldwide where Google Cloud users have reported problems and outages. If you are having an issue with Google Cloud, make sure to submit a report below
Loading map, please wait...
The heatmap above shows where the most recent user-submitted and social media reports are geographically clustered. The density of these reports is depicted by the color scale as shown below.
Google Cloud users affected: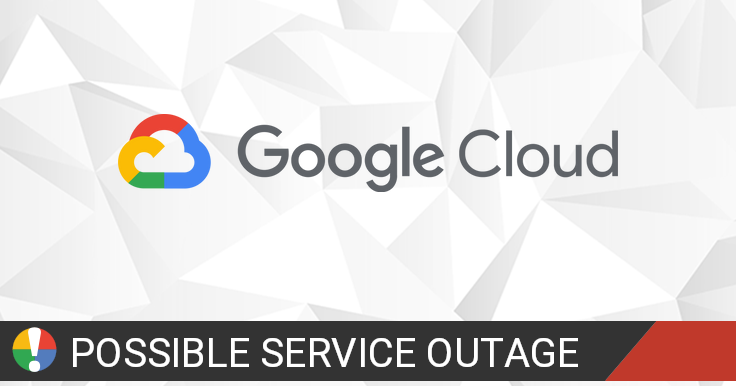 Google Cloud Platform, offered by Google, is a suite of cloud computing services that runs on the same infrastructure that Google uses internally for its end-user products, such as Google Search and YouTube.
Check Current Status
Most Affected Locations
Outage reports and issues in the past 15 days originated from:
| Location | Reports |
| --- | --- |
| Delhi, NCT | 5 |
| Caracas, D.F. | 1 |
| Bergamo, Lombardia | 1 |
| Gravesend, England | 1 |
| Brandenburg an der Havel, Brandenburg | 1 |
| Peiting, Bavaria | 1 |
Community Discussion
Tips? Frustrations? Share them here. Useful comments include a description of the problem, city and postal code.
Beware of "support numbers" or "recovery" accounts that might be posted below. Make sure to report and downvote those comments. Avoid posting your personal information.
Google Cloud Issues Reports
Latest outage, problems and issue reports in social media:
Pradip Ghosh

(@pkgghosh) reported

@qwiklabs why u run a pathetic support service for namesake executives of which is useless, lacks basics, never able to help even which I able to solve in 1-5 mins. What is the use of such pathetic service. U just harass learners' simply.@googlecloud @GoogleCloudTech fyi

Nebraskadorian The Mandalorian

(@Nebraskadorian) reported

TPU: Tensor Processing Unit. A custom chip designed by Google for accelerating neural network computations on its cloud services. #TPU #GoogleCloud

sourabh agarwal

(@souragar) reported

@googlecloud @Google We have not received our google startup credit for the second year as part of the google scaler tier program. Support tickets are unanswered for the last 40 days

varun rai

(@VxRai) reported

1/4 Disappointed with the service from @googlecloud @GoogleCloudTech @sundarpichai. Despite paying my monthly bill on time, I received an account suspension warning email on 16th March 2023. I contacted their customer support team and was assured that the issue was at their end.

Damián Taubaso

(@elcarpo) reported

Anyone else having problems with Google Cloud Scheduler? It seems to be broken since yesterday... @googlecloud

Ryan Masilionis

(@rmasilionis) reported

It sure is difficult to recommend @googlecloud when their appeal process for access is seemingly non-existent. No reply from their support within the few days promised. I've been locked out of my account for 3 months now. Awesome job, Google.

Ceza

(@Ceza_AI) reported

Coding is all fun and games until you need to use @googlecloud Now it's all **** and wondering if you'll lose all your money because you didn't understand the console. Thank god at least they can't have my crypto I guess.

successfulworld.com

(@sucessfulworld) reported

How about withdrawing #GoogleCloud #googlecloudStorage from its users for not meeting up with payment which sometimes could be because of billing challenges or internal personal issues, why delete it off like it is nothing? @googlecloud @Google I need an honest answer.

Emily Lincoln

(@EmilyLincoln__) reported

@rmasilionis @googlecloud If you need help fixing your account just send a DM to @Danieltech001 twitter he's a good tech Consultant that helped me out with my account

Parichay

(@Paricha73614529) reported

After spending an hour with #ChatGPT @OpenAI i got answer with customer support #looker @googlecloud 15 minutes thank you 🙏

Jordy Vandeput

(@JordyVandeput) reported

Sales support at #GoogleCloud : "I don't know what the cost is. You can try it for a month and find out" .. Seriously??

Tejas Bala

(@realtejasbala) reported

@googlecloud netbanking payments in google cloud india leading to a 500 page. i ahve made 2 payments on friday which is still not reflecting care to fix your payment gateway?

Michael Krigsman #CXOTALK

(@mkrigsman) reported

"Digital transformation is not a technology problem." -- @brunoaziza from @googlecloud #cxotalk #data #analytics

Michael Krigsman #CXOTALK

(@mkrigsman) reported

Data quality is a central issue and leads to lack of trust in the data! -- @brunoaziza from @googlecloud #cxotalk #data #analytics

TigerBase

(@Tiger_Base) reported

🚨Outage Notice🚨 Possible database outages on TigerBase this evening as I try and move the primary database to the same data centre as the web servers, to reduce running costs. #GoogleCloud #MySQL #hcafc
Check Current Status