Fallout 76 Outage Map
The map below depicts the most recent cities worldwide where Fallout 76 users have reported problems and outages. If you are having an issue with Fallout 76, make sure to submit a report below
Loading map, please wait...
The heatmap above shows where the most recent user-submitted and social media reports are geographically clustered. The density of these reports is depicted by the color scale as shown below.
Fallout 76 users affected: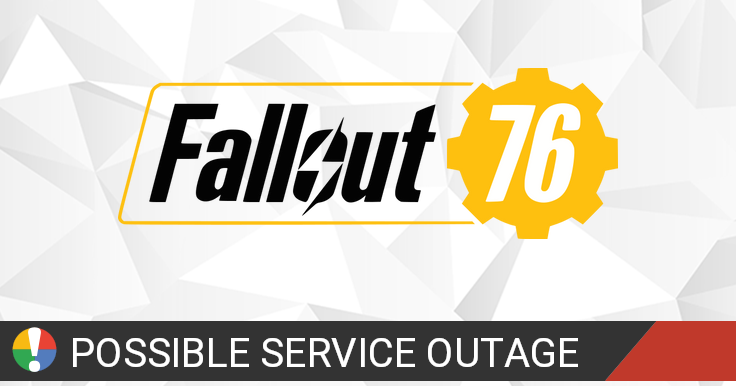 Fallout 76 is an online multiplayer action role-playing video game developed by Bethesda Game Studios and published by Bethesda Softworks. It is the ninth game in the Fallout series and serves as a narrative prequel to the series.
Check Current Status
Most Affected Locations
Outage reports and issues in the past 15 days originated from:
| Location | Reports |
| --- | --- |
| Edmonton, AB | 2 |
| Bournemouth, England | 2 |
| London, England | 2 |
| Chicago, IL | 2 |
| New York City, NY | 2 |
| Berlin, Land Berlin | 2 |
| Colfax, WA | 1 |
| Sydney, NSW | 1 |
| Belgershain, Saxony | 1 |
| Garland, TX | 1 |
| Hannover, Lower Saxony | 1 |
| Grayson, KY | 1 |
| Orlando, FL | 1 |
| Bandar Seri Begawan, Brunei and Muara District | 1 |
| Basingstoke, England | 1 |
| Les St Germain, Jersey | 1 |
| Sumner, WA | 1 |
| Puyallup, WA | 1 |
| Eggenfelden, Bavaria | 1 |
| Exeter, NH | 1 |
| Colchester, England | 1 |
| Modena, Emilia-Romagna | 1 |
| Prešov, Presov | 1 |
| Hajnówka, Województwo Podlaskie | 1 |
| Aywaille, Wallonia | 1 |
| Leeuwarden, fr | 1 |
| Bogor, Jawa Barat | 1 |
| Huntington Beach, CA | 1 |
| Glasgow, Scotland | 1 |
| Dickinson, TX | 1 |
Community Discussion
Tips? Frustrations? Share them here. Useful comments include a description of the problem, city and postal code.
Beware of "support numbers" or "recovery" accounts that might be posted below. Make sure to report and downvote those comments. Avoid posting your personal information.
Fallout 76 Issues Reports
Latest outage, problems and issue reports in social media:
Nate Johnson

(@natej1988) reported

@trueraritylive @Variety @Fallout The halo series didn't tell the story of the game and that was the problem.

Chris aka Blackdog

(@thebl4ckd0g) reported

Hoping to get back to streaming either tonight or tomorrow - just been dealing with a lot of not feeling great issues this week (mostly my muscles were sore earlier in the week from all the work I did outside this past weekend). But will have some more @Fallout 76 gameplay soon!

👻GøthGaming🎃 Manifesting for hal20 and autumn!!

(@GothGaming2) reported

@Fallout can u please fix the moth man event lag please

Dan Davis

(@dandavis32366) reported

@OnceUpon76Pod @BethesdaSupport @Fallout Since the Tesla is my main weapon, I now carry 4 off them (quads) because of how quickly they break .I thought I was doing something wrong, thanks for stating the Tesla issue. Hopefully it will get fixed soon.

Terri Miller 23

(@TerriMiller232) reported

@BethesdaSupport @Fallout You didn't fix the tesla it keeps breaking easily 😤 I've put alot of work in finding a tesla BIG WASTE OF TIME 😠

Voramon

(@VoramonGaming) reported

@enigmaticfeeII Fallout76 is four years old this year, and there still are the animations missing, huge lag and framerate is ***, but do tell me how Cyberpunk is "still ****", mr Redditor.

Pete Lopeno

(@Petar_El) reported

@blynn_twitch @BethesdaSupport @Fallout I've been having the same issue since the hot fix. It shows me or my friends in the main menu hours after we've logged out. Then, when we join each other in a server, it immediately shows us as offline.

MUFC🔰.FemaleFury

(@ilovedrpepper79) reported

@BBuggier @BethesdaSupport @Fallout Not sure about weapon usage tbh. That's something that has gotten worse over the last few updates. I used to only fix my railway every now n then but now I'm fixing it after only a few hits

Jdubs

(@Jdubs05876967) reported

@Fallout did you fix the queen event yet?

Enclave's Black Devil

(@JohhnyRidden1) reported

@_AGhostSpider @Fallout I was also upset for the broken Meat week, doubly so since I don't have the Pepper Shaker, but I was glad for the Alien event, again doubly so since I like it and got the automatic Disintegrator mod I was missing.

nigedo

(@nigedo) reported

@BethesdaSupport @Fallout No Eviction Notice event all day today (UK). Tried a couple of other events and got no reward for completion. So looks like you broke more what you intended to fix <surprise>.

Aleksi Salmela

(@AleksiSalmela2) reported

@BethesdaSupport @Fallout Did you take down the Fallout 4 xbox servers down too? Haven't been able to log onto mod menu aside my personal load order nor Cc-menu for couple of hours due to server errors... Again. Already tried router resetting and connection resetting too.

Zombo1982

(@Matthew18700575) reported

@BethesdaSupport @Fallout So 2 hours for not even a 2gb update to fix rewards that are missing in events? This is unacceptable Bethesda do better.

Jesse

(@Jesse25182650) reported

@Barry55581263 @BethesdaSupport @Fallout I had that problem before the update and now still after update

Elisabetta Lilletta

(@Lilletta18) reported

@BethesdaSupport @Fallout do you know that after the last update is almost impossibile to join a friend in the social menù? They all appear to be on the main menu even if they are playing. Please fix it!
Check Current Status