Facebook Outage Map
The map below depicts the most recent cities worldwide where Facebook users have reported problems and outages. If you are having an issue with Facebook, make sure to submit a report below
Loading map, please wait...
The heatmap above shows where the most recent user-submitted and social media reports are geographically clustered. The density of these reports is depicted by the color scale as shown below.
Facebook users affected: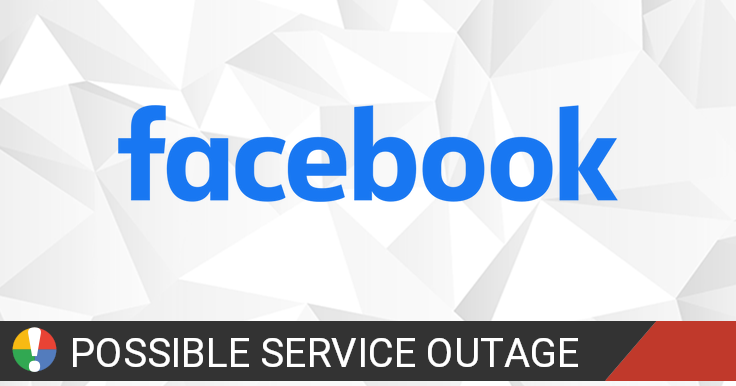 Facebook is an online social media and networking website that allows its registered users to create profiles, upload photos and video, send messages and keep in touch with friends, family and colleagues.
Check Current Status
Most Affected Locations
Outage reports and issues in the past 15 days originated from:
| Location | Reports |
| --- | --- |
| Laguna de Duero, Castilla y León | 93 |
| Mexico City, CDMX | 84 |
| Sydney, NSW | 40 |
| Bogotá, Distrito Capital de Bogotá | 39 |
| Melbourne, VIC | 29 |
| Quito, Provincia de Pichincha | 29 |
| Puebla, PUE | 26 |
| Guayaquil, Provincia del Guayas | 26 |
| London, England | 26 |
| Bucaramanga, Departamento de Santander | 21 |
| São Paulo, SP | 21 |
| Guadalajara, JAL | 21 |
| Paris, Île-de-France | 19 |
| Brisbane, QLD | 19 |
| Monterrey, NLE | 17 |
| Lima, Provincia de Lima | 16 |
| Madrid, Comunidad de Madrid | 16 |
| Perth, WA | 15 |
| Guatemala City, Departamento de Guatemala | 15 |
| Montréal, QC | 15 |
| Medellín, Departamento de Antioquia | 15 |
| Mérida, YUC | 13 |
| Toluca, MEX | 12 |
| Managua, Departamento de Managua | 12 |
| Rio de Janeiro, RJ | 11 |
| Rome, Lazio | 11 |
| Toronto, ON | 10 |
| Cali, Departamento del Valle del Cauca | 10 |
| Edinburgh, Scotland | 10 |
| Gustavo Adolfo Madero, CDMX | 10 |
Community Discussion
Tips? Frustrations? Share them here. Useful comments include a description of the problem, city and postal code.
Beware of "support numbers" or "recovery" accounts that might be posted below. Make sure to report and downvote those comments. Avoid posting your personal information.
Facebook Issues Reports
Latest outage, problems and issue reports in social media:
Cryptodamaus

(@SatisfiedProdu1) reported

Am I the only person in the world that didn't know @facebook and @instagram were down until now? #facebookcrash

Carl Mayo

(@mayo8900) reported

@Facebook Hurry up nd fix the issue @Facebook cant cope with out it

SDScubaMike

(@viperz28) reported

It's good that @Facebook went down, I now know where I rely too much on their services

Ephet's Take

(@OriginalEphet) reported

Oh @Facebook, everything is so intertwined with you that I'm sure boredom will soon set in. Me on the other hand, I have sales to make. Fix it and stop covering **** up #facebookdown #facebookwhistleblower

christy karch

(@calichristy2) reported

@TheMobilityMom @instagram @Facebook it's been down for a couple hours #oldnews

Mike Holiday

(@MikeHolidayXXX) reported

@schrep @Facebook Funny its the 3 apps you run yet twitter is fine. Facebook sucks anyway can't post anything without it being reported or taken down even when it's nothing inappropriate. Screw my account im done with instagram and Facebook Twitter way much better & don't get harassed 4 petty stf

National Service Scheme, NSSGhana

(@NSSGhana_) reported

All engineering graduates waiting for national service posting should fix @WhatsApp @instagram and @Facebook before being posted to any reputable institution, else you're all going to direct traffic.

Clifford L

(@Clifford1462) reported

@chipfranklin Not on it … but, if they folded … no big issue @Facebook

SuperSonicStation

(@u4dannyboy) reported

@schrep @Facebook They got overloaded with censoring too many people. Keep Facebook down. It's Trash. #SocialMediaDown

Dawood🇵🇰❤🇵🇸

(@DWarriyah) reported

Mysterious silence by the giant tech forums @WhatsApp @Facebook @instagram over WHY this global outage since more than three hours by now while unconfirmed news start circulating of FB being hacked and users data sold on dark web. Transparency. Users right to know. #Copied

Lisha 💕

(@Lisha_B_) reported

@ladbible @Facebook This is not on, had to come to Twitter cause everything else is down

Trisha Patterson

(@prettytrisha07) reported

@Facebook Some people? I wonder who are those that's not having problem accessing you apps

john kenny

(@JohnKennyMedia) reported

Can we finally close down @Facebook for good.

c 🥔 #OustDu30

(@SADTITA) reported

@Facebook FIX WHATSAPP I GOTTA TALK TO MY MAN IN EUROPE JFC 🥺😩

Expats Paris

(@ExpatsinParis) reported

Facebook, WhatsApp and Instagram are still down worldwide. This is happening just one day after a damning "60 Minutes" segment that featured former @Facebook product manager Frances Haugen taking the company's awfulness to task. Interesting to see how this will unfold.
Check Current Status