Facebook Messenger Outage Map
The map below depicts the most recent cities worldwide where Facebook Messenger users have reported problems and outages. If you are having an issue with Facebook Messenger, make sure to submit a report below
Loading map, please wait...
The heatmap above shows where the most recent user-submitted and social media reports are geographically clustered. The density of these reports is depicted by the color scale as shown below.
Facebook Messenger users affected: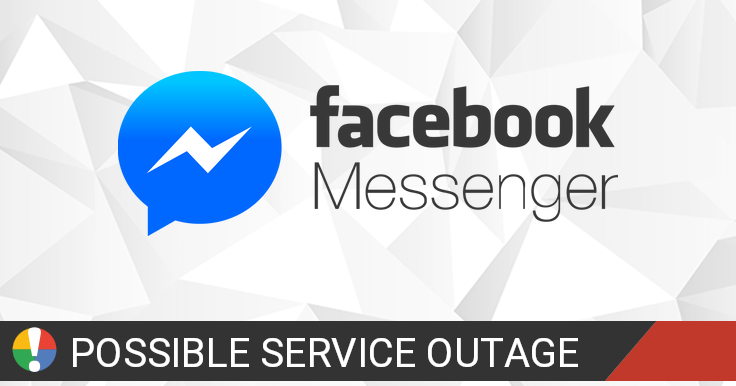 Facebook Messenger is an instant messaging service and software application. Users can send messages and exchange photos, videos, stickers, audio, and files.The service also supports voice and video calling.
Check Current Status
Most Affected Locations
Outage reports and issues in the past 15 days originated from:
| Location | Reports |
| --- | --- |
| Anklam, Mecklenburg-Western Pomerania | 34 |
| Paris, Île-de-France | 8 |
| Melbourne, VIC | 7 |
| London, England | 7 |
| Montréal, QC | 7 |
| Brussels, Bruxelles-Capitale | 5 |
| Mexico City, CDMX | 4 |
| Warrington, England | 4 |
| Sydney, NSW | 4 |
| Lille, Hauts-de-France | 4 |
| Quito, Provincia de Pichincha | 3 |
| Manchester, England | 3 |
| Florence, Toscana | 3 |
| Berlin, Land Berlin | 3 |
| Brisbane, QLD | 3 |
| Bogotá, Distrito Capital de Bogotá | 3 |
| Athens, Attica | 3 |
| Les St Germain, Jersey | 3 |
| Sheffield, England | 2 |
| Châteauguay, QC | 2 |
| San José, Provincia de San José | 2 |
| Murchin, Mecklenburg-Western Pomerania | 2 |
| Newcastle upon Tyne, England | 2 |
| Budapest, Budapest | 2 |
| Adelaide, SA | 2 |
| Santiago, Región Metropolitana | 2 |
| Nashville, TN | 2 |
| Sacramento, CA | 2 |
| Kansas City, MO | 2 |
| Rome, Lazio | 2 |
Community Discussion
Tips? Frustrations? Share them here. Useful comments include a description of the problem, city and postal code.
Beware of "support numbers" or "recovery" accounts that might be posted below. Make sure to report and downvote those comments. Avoid posting your personal information.
Facebook Messenger Issues Reports
Latest outage, problems and issue reports in social media:
Ashok Ramanathan

(@wanderingashok) reported

@AxisBankSupport This is my service request number raised via Facebook messenger. Appreciate if you Swift support on this please.

Gemma Gardiner

(@BottomFloer) reported

Is it me or is @facebook messenger down?

T E G A N • ♑︎

(@TeganJosie) reported

Day 4 of my Facebook Messenger being down. 😒 #Facebook #meta

Ti: Feed the Multiverse: Custom Cartography!

(@FeedMultiverse) reported

@sonymicronin @pangalactic Ahahaha yeah though it's such a rare problem that it isn't worth rectifying. If someone's SUPPOSED to be able to reach me they know they'll have a better chance on Discord or Facebook Messenger than by phone, lmao. I don't even have a voicemail box on my phone.

Sheila McCann

(@mccannsheila1) reported

@airtransat C'mon customer service/wait times are totally unacceptable - taking real advantage of customer. 'Your call is important to us'!! Yeah, really! Now at 2 hrs on hold on phone and FB Messenger conversation left me hanging… transfer to live agent and then nothing! Help!

🔞1amBuldr🔞(COMS OPEN)

(@1Buldr) reported

I curently have emergency flat color commisions open for- $40-50 USD I'm out on the streets atm(homeless) and I need the money to Uber myself out to my nephews so he can help me get a home and job It be appreciated if someone commisions me :) (Cash app or Facebook messenger)

Ms. Tisha

(@JuzZBlu) reported

@AvenuePlus The customer service I'm receiving has been terrible. I've called, emailed and have an entire fb messenger thread and keep getting the run around. I made an order on 5/15/22. Your customer service rep confirmed that @FedEx lost it. You no longer have the items…

T E G A N • ♑︎

(@TeganJosie) reported

Day 5 of Facebook Messenger not working. 😒 #facebookdown #meta

Erik Okerholm

(@Eokerholm) reported

@LandmarkProps trying to get ahold of someone at STD ATL for over 2 weeks now to reassign a contract. Emailed, Left 4 msgs with Answering Service, Texts & FB Messenger. No Response. Both families live out of state. Some help here please!!

Kevin Calman

(@codex24) reported

@AerLingus flights were fine but my baggage never arrived after a domestic connection. My Tile trackers are showing my bags are still showing the bags are in BOS, but no one can find them. No response to phone, chat, or FB Messenger. Help me, #CustomerService

❤️‍🔥

(@KINGSLEIGHYA) reported

ive been getting this glitch in fb messenger for literally months now where it looks like someone is typing but theyre like definitely not. its pissing me offff

Ashok Ramanathan

(@wanderingashok) reported

@AxisBankSupport This is my service request number (220614082159) raised via Facebook messenger. Appreciate if you Swift support on this please.

Steven Reed

(@BigZangief) reported

@adidasUK can I have an email address to report an issue please? I tried to use your online chat function but the session was ended prematurely, and I haven't received a response through Facebook messenger.

katie bokan

(@katiebokan) reported

@PublicStorage I got this same message from FB messenger. I've called that number. I don't need a refresh on your terms and conditions, I know them - and they're terrible, that's the point.

Brian C. Long

(@BrianCLong) reported

@SeanEcom People forget in 2016 that it was all about Facebook messenger. We tried it and built for it. Performance was much worse than sms. Apple business chat is just customer service.
Check Current Status